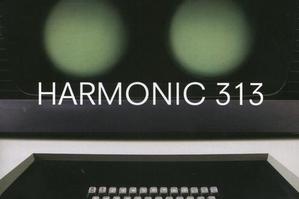 Rating: * * * *
Over the last 20 years, British DJ and producer Mark Pritchard has straddled multiple music forms, under many different guises, and with Harmonic 313 he follows the dark electronic ethic conjured up by contemporaries like Squarepusher and Aphex Twin. On this intriguing and desolate album, Pritchard also throws in twisted hip-hop, dubstep, and eerie industrial elements while always having one foot tapping incessantly on the dancefloor, which is in keeping with his love of Detroit techno (the 313 of the project name refers to the Detroit area code).
It's not easy to dance to - more like looming terror on the dance floor - and it's certainly not easy listening, especially the rickety typewriter clatter of Cyclotron C64 SID. Ironically the most inviting track is the mid-album onslaught of Battlestar, an in-your-face thumper and one of only a few songs with vocals.
The pulsing quick-step skip of Flaash could be the soundtrack to Billy Elliot, if he was a ballet dancing robot boy; there's the galactic sonic star bursts and deep rumbling bass of Don't Panic; and the fractious shuffle of Quadrant 3 brings the album to a simmering end.
While Pritchard, who plays three dates in New Zealand next week (including Auckland's Ink on July 31), doesn't quite prove the claim of the album's title, this cold, glitchy and palpitating machine-made music wins you over with its utter uniqueness.
Scott Kara