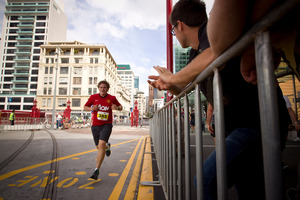 Two iconic Auckland sporting events will next year become one.
The 2014 running of the Queen Street Golden Mile will be staged over the same weekend the ITU world triathlon series makes its stop in Auckland.
Craig Pollock, chief executive of Sir John Walker's Find Your Field of Dreams foundation, which reprised the famous race this year after a 30-year absence, said this year's event did not attract the numbers they had hoped for.
The foundation were forced to look at ways to make the event more sustainable, and decided to link up with organisers of the Barfoot & Thompson triathlon world cup to see if they could piggy-back on their event, which was this year held the week after the Queen Street race.
"It seemed to us nonsensical to have the two major events using the same sorts of infrastructure and support of major events in successive weekends," said Pollock.
The news will come as welcome relief to inner-city residents and commercial retailers, who were upset with the disruption of having the streets shut down two weekends in a row.
Dave Beeche, the head of Upsolut Sport, which holds the rights to stage the ITU world triathlon event in Auckland, said the move is an "operational no-brainer" for his organisation.
"From a cost and impact to the city point of view, it absolutely made sense to integrate these two great events," said Beeche.
Beeche hopes by amalgamating the two events he will be able to continue to grow the following of the triathlon event.
"These events really succeed by having more than just the elite component. Our vision for this event is it is a competition that has something for everyone, from the kids right up to the elite athletes. So when the opportunity came to integrate the Queen St mile as part of the festival, we saw it as an opportunity to continue to grow and innovate with this event," he said.
To that end there will be a series of racers for youngsters, all-comers and corporates in the first flight of the miles, which precede the elite women's ITU triathlon on Sunday April 6.
That will be followed by the age group miles for men and women, a celebrity mile, and the elite men's and women's races. The weekend will conclude with the elite men's ITU triathlon race.