Confident comedienne rocks as a feisty prehistoric redhead.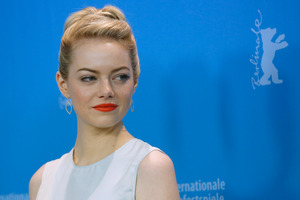 Cat-like, with big eyes and a wide mouth, Emma Stone couldn't be more different from her latest role. She's providing the voice for the heroine of Dreamworks' latest animation, The Croods. Conveniently overlooking the Flintstones, they're billed as the world's first modern prehistoric family. Stone's character, Eep, must battle her overbearing, protective father, played by Nic Cage, in order to seek the very contemporary notion of a fulfilling life.
Unlike the sleek Stone, who today is sporting platinum blonde locks, Eep is a squat, ginger-headed cavegirl whom the actress describes as: "A complete dream. She is so feisty, and she forges her own path. Also, though it's not my natural colour, I am a great supporter of redheads as you may know. I would probably be red right now myself if it weren't for having to go off and film Spider-Man again."
The part of Gwen Stacy, Peter Parker's first love in franchise reboot The Amazing Spider-Man, confirmed Stone's arrival into the big league. It also provided her with a real-life love interest, Spidey himself, 29-year-old British actor Andrew Garfield, with whom she is now shooting The Amazing Spider-Man 2.
Stone has made it clear that she has a private life, declaring: "The only thing you have control over in this business is over what you say. People can say or do all the stuff they want, but if it hasn't come out of your own mouth, you have a semblance of control over what is sacred to you."
Born Emily Stone into a fairly affluent family in Phoenix, Arizona, she was acting from an early age at Valley Youth Theatre. There was none of the central tension of Eep's desire to free herself from her father's wishes.
"No, my parents were cool when I was a teenager," Stone says. "They wanted to discuss everything, they weren't too strict. There was none of that, 'you guys are jerks, you don't understand me', in [our] relationship."
That self-possession enabled Stone at 15 to give her parents a PowerPoint presentation on why they needed to move to Hollywood for her career. It worked; her mother moved to Los Angeles and home-schooled Stone for a couple of years. Television work followed and in 2007, at the age of 19, she landed her first movie role in Judd Apatow's big break, Superbad.
Now, she says, she herself is ready to produce: "I'm incredibly excited at the idea of it. I don't think people realise that I'm such a film buff, but I love the intricacy of making a movie ... And the more female producers we have out there, the better."
What kinds of films will she make? She says she doesn't know, but so far Stone has made her name in comedy, taking up Jennifer Aniston's mantle as a lead actress with innate comic timing who is also bankable. Saturday Night Live, the TV showcase for names like Tina Fey and Amy Poehler, is one of her all-time favourite shows.
"Because it gave women an outlet to be funny. The comediennes I most admire are the ones on there who aren't afraid to look ridiculous. And for me, in my career, I want to be brave in my choices."


Movie profile
Who: Emma Stone
What: The voice of Eep in animated movie The Croods
When: At cinemas now
- Independent