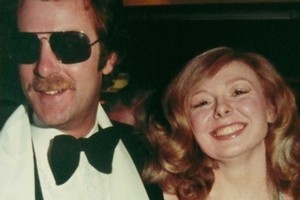 What better way to celebrate the (perhaps mortal) wounding of the Murdoch monster and his son (does James really have a statue of Darth Vader in his office?) than by watching a documentary film called Tabloid.
It's on at the Lido this afternoon in the second of three screenings and it's an absolute ripper.
To be honest, it is not the kind of thing I expected from Errol Morris whose track record includes the masterly The Thin Blue Line in 1988 about a man wrongly imprisoned; Mr Death (1999), a portrait of an executioner who thought the Nazi gas chambers would have been technically impossible; and the absolutely riveting The Fog of War, an extended interview, interpolated with archival footage, of the Kennedy- and Johnson-era US Secretary of State, Robert McNamara.
These were sober subjects, traversed with gravitas and an archivist's precision: Tabloid by contrast, is a thrill ride. In a director's statement, Morris says that the film is "a return to my favourite genre - sick, sad and funny" but there is much more to it than that.
The story of a beauty queen who kidnapped a Mormon missionary - well, I hardly need to go on, do I? - ends up being a profound, but never po-faced rumination on the power of the media to shape people's lives but, more importantly, our fatal complicity in that process.
The film's main character, says Morris, "was living in a movie long before she came to star in my film."
Morris' later documentaries pioneered a technique in which the interview subject looked directly into the camera. This was achieved by means of a simple device his wife dubbed the Interrotron - essentially a customisation of the teleprompter technology used by television newsreaders.
Instead of words, the Interrotron projects an image of Morris' face in front of the camera so that, as he puts it, the subject can have "direct eye contact with me, and look out at the audience at the same time."
The technique offends documentary purists who believe that it fatally undermines the precisely calibrated three-way relationship between interviewer, subject and audience and it is, initially at least, quite unsettling - consider what it looks like when a seasoned politician, keen to make a point, looks down the barrel in a TV interview. But it makes for a compelling, intimate and revelatory interview style.

Tabloid also uses a fast cut rate, a visual style that recalls collage and thousands of sound cues to create a ... well, a tabloid style of storytelling.
Form and content were never more perfectly married in a movie and you may be sure that it will warm up a wet afternoon.
FILM FOOD: Isn't it good that there are so many good, cheap, fast eating places in the block or two around the Civic? The Herald recently pointed out that Queen St is dominated by American fast-food chains, but there are plenty of better options: Elliott Stables is pumping now; the BBQ Duck place across the road from the Civic is a reliable example of its kind; Thai, Korean, Japanese joints are within a few steps. Bon appétit!