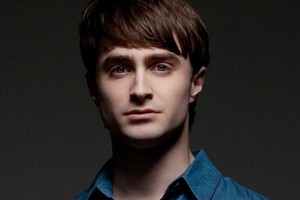 Hollywood is littered with child stars who went off the rails - or kid wonders who never fulfilled their promise.
So Daniel Radcliffe, now saying goodbye to Harry Potter in Deathly Hallows, a spectacular two-part finale, it must be your turn next...
"Yeah, so far I've managed to do quite well, without it screwing my life up," laughs Radcliffe, "Partly it's because being in Potter has constrained me from doing certain types of things. But it's also partly my own genuine cowardice that's held me back. It's like the other day I considered going ice-skating and then I thought; 'No, what if I fall on the ground, someone skates over my hand and they chop my fingers off?' That would be dreadful!"
Radcliffe's response suggests why he and his co-stars haven't made headlines for all the wrong reasons.
"If I was constantly falling out of clubs, I wouldn't do myself any favours," he says. "If I'd done that while I was on Harry Potter the headline would be 'Potter kid goes nuts' and if I do it now, after Potter, the headline will be 'End of Harry Potter too much to bear for Radcliffe.'
"Unfortunately, there's going to be that level of attention on all of us for the foreseeable future so we have to be careful," cautions Radcliffe.
"If you get a reputation for drinking, doing drugs or just being unreliable it can affect your career much quicker now, because of the internet, than it used to."
"I can honestly say that one of the biggest achievements about Harry Potter is that all of the kids are still so well-adjusted," adds producer David Heyman.
"If anyone had ended up damaged as a result of this, then that would have been too high a price to pay. But, thankfully, Emma, Rupert and Dan have all emerged unscathed as bright, humble and decent adults."
Their only act of rebellion - so far - has been Watson symbolically cropping her hair short, post-Potter, and Radcliffe threatening to get a tattoo.
"I haven't actually done it, yet, because it would have been ill-advised to get a tattoo while I was on Potter - especially with the amount of stripping I do in this film," he admits, sheepishly.
"Also, I haven't decided what to have, although I do know I want something subtle, so I'm not spending hours in makeup the rest of my life."
Toying with a tattoo reflects how Radcliffe is growing up, moving on and appreciating there is life after Harry Potter. However, he's still coming to grips with its end and what his future entails.
"The very last scene we did together, where we're coming out of the lift in the Ministry of Magic, was very sad. We did a lot of mourning that day," he reveals.
"Did Rupert tell you that he cried? Well, he did. We all did, because it was the very last time we were all together. It felt like the end of an era, the end of an amazing journey."
Having spent half his life and his whole film career inhabiting the title role in Harry Potter, along with a guest part in Ricky Gervais' Extras and the controversial, naked lead in Equus, it's strange to think of Radcliffe as a veteran, at just 20 yet with his whole life and career still ahead of him.
"That's why it feels so weird that people are asking me if 'this is it,' or 'will I still act' because the end of Potter is only the beginning of the rest of my career," he retorts.
"I guess it's because a certain proportion of people will always just see me as Harry Potter, so I need to prove to them that I can play parts other than this.
"To be honest, I think I now have to work twice as hard as most other actors my age, to try and separate myself from this character and to create a more varied and interesting body of work over the next few years than I might have done, if I was in the same position but without these Harry Potter films behind me.
"Hopefully, most people will have the imagination and intelligence to picture me in a different light and in different roles."
With filming already under way for The Woman in Black, where Radcliffe portrays a 24-year-old widower struggling to cope with an infant son, and a starring role in How to Succeed in Business on Broadway, his future looks bright - especially as both are worlds away from Hogwarts, wizards or goblins.
One part he won't be rushing to reprise, though, is his role as Harry Potter in any remake or possible future instalments, currently being mooted by J.K. Rowling.
"No, 10 years is enough with one character, so I see it as very unlikely that I'll want to play him again," asserts Radcliffe. "But if and when they come to me with the remakes and offer me Dumbledore, maybe then I'll think about it."
-TimeOut
LOWDOWN
Who: Daniel Radcliffe, former boy wizard
What: Harry Potter and the Deathly Hallows Part 1 which has Harry, Ron and Hermione set out on a mission to track down and destroy the secret to evil Lord Voldemort's immortality and destruction - the Horcruxes. The three are forced to fend for themselves - when they are not fighting among themselves.
When: Out now
*Harry Potter and the Deathly Hallows Part 1 will be reviewed in this Saturday's TimeOut