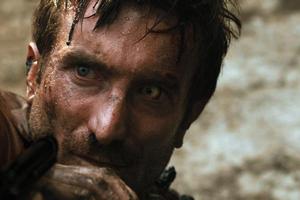 Rating: * * * * *
Verdict: All hail the Slumdog Millionaire of sci-fi.
It might be set somewhere you don't usually see in the movies - the slums of South Africa. And it might star nobody you've heard of - the producer guy who has his name at the top of the poster is its only marquee drawcard. And it might have only cost a fraction of any of this year's other dumb and derivative blockbusters. But there is still much familiar about District 9, a thrilling smart-thinking spin on the alien invasion movie.
One which, after their efforts to adapt the Halo videogame fell foul of studio politics, became the clearly inspired plan B for producer Peter Jackson and debut feature director, Johannesburg-born Neil Blomkamp.
It comes with its own hulking hovering spaceship, the likes of which have been seen usually playing synthesizer duets with the locals on American midwest mountaintops or death-raying the White House.
It's got that now old trick of a faux documentary delivery to start out with, which, after explaining the rudiments of this peculiar close encounter, introduces us to Wikus van der Merwe (played engagingly by Copley, a non-actor mate of Blomkamp's).
He is an anxious gawky middle-management functionary of the MNU corporation, a sort of distant South African cousin to Derek from Jackson's own alien invasion debut Bad Taste.
Along the way, it also comes with scenes that will remind of everything from The Fly, to Aliens, to Alien Nation to Starship Troopers to Enemy Mine.
But it's in the taut storytelling (from a script by Blomkamp and co-writer Terri Tatchell based on the director's earlier short Alive in JoBurg), the original setting, and the deft recombination of those genre elements which makes District 9 such a wonder.
It's a rare film indeed that can be both a splatter-happy gunfight flick and a socio-political allegory, one about how a post-apartheid South Africa isn't coping with the influx of refugees from Zimbabwe and Nigeria.
The film begins by explaining the ship has been stuck here for years and its crew only came out after some heavy coaxing.
The locals are now fed up with this invasion of the insectoid/crustacean creatures they've dubbed "prawns", who have become refugee-ETs living in the shantytown squalor of the title, having seemingly lost any motivation to wield the hi-tech weaponry they brought with them.
MNU has been charged with policing the situation and in face of the prawns' increasingly anti-social habits (including making a dent in the local catfood supply) the corporation needs to shift them away from the city to an isolated internment camp.
With his father in law a MNU honcho, Wikus is tasked with leading the eviction effort. Only, due to a mishap on the job poor Wikus finds himself feeling a little off-colour.
Soon, with his life in tatters and his body showing some alarming symptoms, he is a marked man, not just by his MNU bosses who think he may have stumbled on to the prawns' greatest secret but a band of local Nigerian bandits who - in between spam-scam banking schemes, presumably - have developed their own way of exploiting their fellow migrants .
His only hope lies within District 9 and an uneasy alliance with an alien named "Christopher Johnson" (Cope).
Together they face some increasingly berserk shoot-outs between MNU's heavies with Wikus discovering he has acquired a knack for the alien technology his firm has tried so long to reverse-engineer. And along the way, of course, he also discovers the humanity he seemed to have misplaced while being the unthinking clipboard-carrier for MNU.
Some elements of District 9 do feel a little pat.
MNU's top brass, including the father-in-law, are just there to be ruthless and not much else. And the soundtrack isn't afraid to embrace some African cliches.
But they sure distract from the film's apparent mission. That is, dish up sustained tension and gory black humour with the madcap energy of a first-time director who comes armed with an array of visual effects that make the whole thing look frighteningly convincing.
It might have started out as a plan B from outer space but this is no B-picture. Just the best alien flick for eons.
Click here for Neill Blomkamp on making District 9
- Russell Baillie
Cast: Sharlto Copley, Jason Cope, David James, Vanessa Haywood.
Director: Neil Blomkamp.
Rating: R16 (violence & offensive language).
Running time: 113mins.