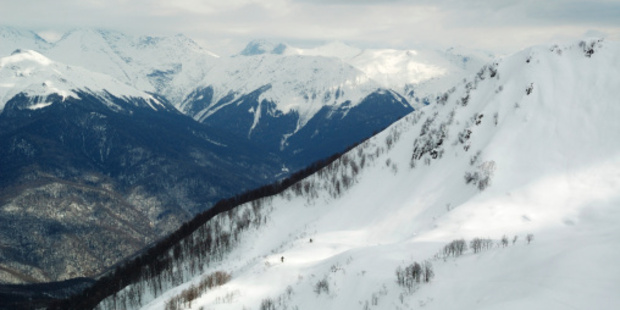 Vladimir Putin is making me wait. Well, not just me.
The Russian president is undertaking one of his regular visits to the seaside city of Sochi, host of the 2014 Winter Olympics, and is causing quite the build-up of traffic.
Putin, a muscular leader in and out of the Kremlin, isn't prone to releasing a daily schedule for his constituents. Or too many others it seems.
Two minutes earlier and we could have safely negotiated the Krasnaya Polyana Highway back to Rosa Khutor, one of the host sites of February's Games. But now we must wait. And wait.
Turns out Putin is none too happy with how things are going at RusSki Gorki, the ski jump complex for the Games.
It's two years behind schedule and seven-times over budget. He recommends Akhmed Bilalov, the Russian Olympic Committee vice president and man in charge of the site, be sacked.
The Olympic Committee insists his fate can only be decided by a session of its executive committee.
Unsurprisingly Bilalov finds himself out of a job the very next day.
That the man running the country gets what he wants should also not surprise - but perhaps it's a good omen that after some stumbles these Games will ultimately deliver as well.
Located 1400km south of Moscow on the Black Sea coast, Sochi is, in more ways than one, a long way removed from the Russian capital.
A coastal village replete with palm trees, it was Joseph Stalin's summer residence de jour before a period of government neglect until after the Cold War.
But Putin, with his disarming need to be seen as a virile man of the outdoors after his predecessor Boris Yeltsin was anything but, brought the place back to prominence as he hiked the mountains, fished in its waterways and tackled the local ski slopes.
Rumour has it that he even has a private lift to access his secluded mountain hideaway and when he flies in from Moscow government helicopters are used to disperse the clouds for him.
Arriving at Sochi in the dark it's hard to get a handle on the scope of what is going on here but the break of dawn reveals the biggest construction zone in Europe.
Effectively stretching all the way from Adler airport some 50km to the mountain cluster of resorts, this is Putin's $50 billion dream coming to fruition.
A short drive north of Adler to Akhun Tower reveals the extraordinary beauty of the Krasnodar region.
Perched 663 metres above sea level, the Stalin-era edifice offers commanding views of Europe's longest city.
From Abkhasiav in the south to Magri in the north it snakes along 147km of Black Sea coastline; the half dozen Games cluster venues - from the 40,000 seat Central Stadium to the Bolshoi Ice Palace and Skating Center visible in their various states of readiness.
Then you simply need to turn your head east to capture how a Winter Olympics here is possible.
The sudden elevation from just 600m above the valley floor to well over 3000 metres is jaw-dropping, even for a continent with its share of stunning mountain ranges.
And this is where the heart of the Games will be.
For a place that's enjoying its share of traditional pre-Games chaos, Rosa Khutor is remarkably serene and almost orderly. Modern hotels and restaurants line either side of the Mzymta River, the village all but built from scratch over the past two years.
With wide walkways, open spaces and tasteful architecture, it's apparent plenty of thought has gone in to creating a place worth spending some time in. If only people would top smoking long enough to enjoy it.
Perhaps the only thing missing this time around is the snow at village level, a repeat of the exceptionally mild winter in 2014 will be sure to cause problems for the event schedule, regardless of the glacial snow that has been kept in storage in case of emergency.
Admittedly, it isn't the only complication here.
"They say there are two problems in Russia," our guide Elena Vavilova tells me with a laugh. "Roads and fools".
Get off the main roads here and you'll encounter both issues - sometimes at once. But the high-speed train network linking the airport and coastal venues to the mountain cluster should make travel substantially easier by the time the Games begin on February 7.
And if you're expecting a modern, heaving and cosmopolitan European metropolis it may be best to head to Moscow or St Petersberg instead; Sochi may be a city of 350,000 people but it is so spread out there's no great discernable hub.
But they are relatively small quibbles.
While the Russians will continue to flock here in summer, the rest of the world is more likely to be drawn to its extraordinary mountains, which aesthetically aren't all that far removed from Courchevel in France or even the Swiss Alps.
At this stage Sochi still has a way to go but the feeling is it will be worth the wait. And if the president is in town you mightn't have too much choice.
IF YOU GO
GETTING THERE: Sochi is on the Black Sea coast in southwest Russia. It's about a 1hr45min flight from either Moscow or Istanbul, Turkey.
STAYING THERE: The main accommodation is split between the coastal cluster of Adler (Imeretinskaya Valley) and the mountain resorts around Krasnaya Polyana. More than 40,000 tourist beds are expected to be available for the Games. Rosa Khutor is the pick of these mountain villages. (visitsochi.su)
PLAYING THERE:
Skiing: There's a phalanx of resorts in the Krasnaya Polyana region and they are located within short proximity of each other. Rosa Khutor is the most developed with 7 lifts and a healthy 1380m vertical drop. The high alpine terrain promises stunning skiing and snowboarding for advanced riders when conditions are good. Other resorts include Laura (Gazprom) - which is best for beginners and Gornaya Karusel.
Other activities: Banyas (bath houses) are popular in the region and oddly enough one owned by an expat Brit is one of the best (britishbanya.com). Krasnaya Polyana's temperate climate even in winter allows for some pleasant walks with the Yew and Boxtree Grove worth wiling away a few hours. Taking in the views from Akhun Mountain is a must while Stalin's summer residence is a good one for history buffs.
Eating out: It's worth the trek off the main streets to Achishkho in Krasnaya Polyana for an excellent selection of Georgian cuisine in quirky surrounds. For something special go to Dom 1934 in Adler while a 10-minute cab ride from Rosa Khutor is the Trikoni Tavern which has a great mix of local and more western influenced dishes as well as regular live music.
Olympics Games/tickets: The Winter Olympics will run from February 7-23 with the Paralympics to be held from March 7-16. CoSport Australia is the official ticket supplier for Australians and purchases can be made from their website: cosport.com. Also see: sochi2014.com for Games information.
For information on organised trips to Russia go to: russian-gateway.com.au
- AAP