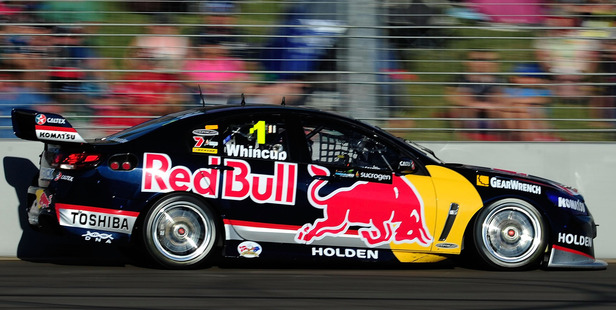 The V8 Supercars' championship is in the home stretch with two rounds to go, starting this weekend at Phillip Island and culminating a couple of weeks later on the streets of Homebush in Sydney.
It's been a few years since the category has had four drivers vying for the championship title this close to the end of the season.
Defending champion Jamie Whincup, points leader Craig Lowndes, third-placed Mark Winterbottom and Will Davison in fourth are all legitimate challengers for this year's honours.
Whincup has been the man to beat over the past couple of years and has four championships to his name.
His teammate Lowndes has three titles - although the most recent was won in 1999 - and has finished second to his Triple Eight Racing partner four times.
For the fans of the big V8s, watching two teammates rubbing door handles in the race for a championship is great, and this year there's a double act.
Behind the Red Bull Racing Australia pair are Ford Performance Racing's teammates Winterbottom and Davison, both chasing their first V8 Supercars' championship.
"I don't care what anyone else is saying, or what you read anywhere, it's every man for himself," said Winterbottom.
"I feel good at the moment we've put some of the troubles we've had in the season behind us.
"Looking at it objectively, at one stage we were 460-odd points behind and I remember thinking that's the season over and I've still got six months to go.
"Then you put a few good results together and the other guys have a few bad weekends and suddenly you're back into contention.
"You always want to get to these final couple of rounds in contention to win the championship. I've got every chance and opportunity, if I'm good enough, to get it right and I could win this thing."
The FPR team have had a few issues this season in the pits, where they've let some valuable points slip. But as with any professional team, they analysed what the nub of the problem was and went about rectifying it.
It came at a cost - having to replace 180 wheel nuts - but as Winterbottom said you can't mess around with those sorts of problems.
"Once we sorted all that out, we were always going to get results. It could have been a cracking year without those dramas, but everything is good now and we've got the confidence to push on now.
"Some people said it was too late, but thankfully the results have shown it was the right decision to make to get things fixed."
Despite what the teams will be saying about this weekend's racing, Whincup will be looking at Lowndes and vice versa, Winterbottom will be looking at Davison and vice versa, and the teams will be looking at each other.
Behind the rivalry at the top, Kiwi driver Fabian Coulthard is fifth in the title race and has a mathematical chance of pulling the series' title rug from under the leading four.
"Sure, there's a remote possibility I could win the championship, but that's only really on paper and it'd be a long shot," said Coulthard.
"But what it does is allow us to gamble a few things over the weekend and hope they pay off.
"The four in front are going for a championship and so am I, albeit as an outside chance, which means I can afford to take a few risks.
"The unknown at the moment is going to be tyre wear. The track has been resurfaced, and afterwards the MotoGP people were having trouble with the tyres.
"It's going to be interesting to see how our tyres hold up."
Looking at the weather reports it would be a good bet that tyre life might not be a problem, as a fair amount of rain is forecast.