Paul Whibley's season promised a lot but injury didn't help, writes Andy McGechan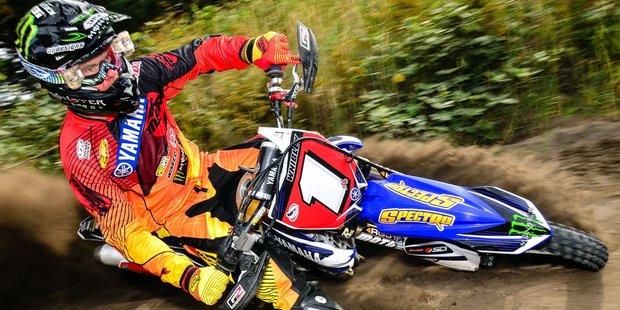 New Zealander Paul Whibley ended his international season on the podium and is now looking forward to a break at home before returning to the United States to do it all over again next year.
The 34-year-old took his Yamaha YZ450F to finish third overall at the 13th and final round of the Grand National Cross-country Championships (GNCC) at Crawfordsville, Indiana, finally putting to bed a season that had promised so much but never delivered.
The former forestry worker from Pahiatua, dubbed "The Axeman" on the motorcycling scene, won two cross-country titles in the United States last season, clinching the GNCC and the Off-Road Motorcycle and ATV series crown as well, although his campaign this year to defend both titles struck problems.
His winning momentum was disrupted when he was injured in a training crash in April, just before round three of the series, and he slipped down the rankings.
The Yamaha star then opted out of the series for rounds 10 and 11 in September as he had surgery to repair a hernia, and that effectively ruined any dreams he might have had of finishing on top this season.
Regardless of his setbacks this season, the brave Kiwi fought on and finished among the top 10 on 10 separate occasions during the year, his third place overall at the final round earning him a Pro XC1 class championship ranking of No7, but an overall championships ranking of No5 for 2013.
"This is the premier off-road racing series in the world. Everyone dreams about coming to GNCC and for me to come over here and win championships and get podium finishes is awesome," Whibley said.
"I'm just happy to be over here racing these guys and to come back and have two podiums at the end of the season is a good way to end it and I'm looking forward to the 2014 season."
Just two points separated KTM teammates Kailub Russell and Charlie Mullins in the GNCC championship standings before the start of the final round, but when Russell was able to overcome a 15-second penalty for a starting infringement and snatch the lead at the end of lap one, the writing was on the wall.
Russell was able to maintain his lead and finish 36 seconds ahead of Mullins to claim his first GNCC championship.
Meanwhile, now back in New Zealand, Whibley is turning his attention to running the second annual Yamaha Taikorea 500 on Saturday, the Kiwi international again putting something back into the sport he loves.
The Manawatu event is actually a series of four quick-fire races - with $500 up for grabs in a unique format that pays out most for consistency but also rewards individual race winners.
Saturday's Yamaha Taikorea 500 is expected to attract the cream of New Zealand's off-road racers, including last year's inaugural Taikorea 500 winner Cam Smith, of Marton, three-time former national cross-country champion Adam Reeves, of Palmerston North, and Mokau's national cross-country champion Adrian Smith.
Riders such as Morrinsville's Nathan Tesselaar and Masterton motocross and cross-country ace Reuben Vermeers are also expected to front up at Taikorea.
Whibley said he was keen to put something back into the grass roots at home and would not be racing the Taikorea event himself.
The Yamaha Taikorea 500 will comprise two one-hour cross-country races on the "long track", with a $100 prize to the winner of each race.
There will also be two 10-minute cross-country super finals on the "short track", again offering $100 to the winner each time. An extra $100 prize will be paid to any rider who manages to win all four races.