Kiwi Dan Gaunt steps into some big shoes at Bathurst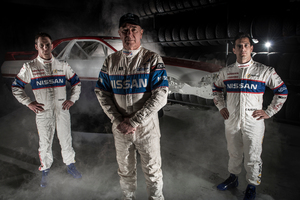 Nissan has returned to Mt Panorama for the first time in 21 years since it dominated the circuit with the legendary "Godzilla" Skyline R32 GT-R in the hands of Jim Richards and Mark Skaife.
This year, Nissan is running four Altima-based V8 Supercars piloted by James Moffat and Taz Douglas; Todd Kelly and David Russell; Rick Kelly and Karl Reindler; Michael Caruso and New Zealander Daniel Gaunt.
It's quite interesting the Japanese manufacturer's return to the Great Race includes a Kiwi driver and many local fans will be hoping Gaunt can emulate some of the success fellow Kiwi Richards had back in the day.
To add a little bit of history to this weekend's event, Caruso and Gaunt will wearing retro-styled race suits similar to those Richards and Mark Skaife wore back in the early 1990s when Nissan were so dominant.
"Driving for Nissan back in the late 80s and early 90s was fantastic," said Richards.
"They were just starting to become competitive and every result we had was a fantastic result - especially the two wins [1990 and 1991] we had in the GT-Rs.
"I think Nissan's return to V8 Supercars has been incredible. I was starting to get a bit bored with just Ford and Holden, but now that Nissan and other manufacturers are back, it's the best thing that could have happened to the sport.
"I think Michael and Dan [Gaunt] will do a great job for Nissan. They've already had some great success at Winton and, hopefully, it will be Nissan's day at the Mount."
There's not even the slightest hint, that as a Kiwi, Gaunt is trying to fill the big shoes, or the legacy that Richard has on the mountain - they were different times and in very different cars. However, that's not to say the young Kiwi isn't aware the return of Nissan to Bathurst comes with some small amount of interest.
Most important of all is that Gaunt, while appreciating the history, is his own man and will be out to make his own mark on the Great Race.
"It's been a bit of a busy year with my Development Series [where he sits fourth] commitments here in Australia and also racing the SuperTourers back in New Zealand [also fourth]," said Gaunt.
"I wouldn't want it any other way and I'm really enjoying it. I can't wait to get to Bathurst and I'm looking forward to pairing up with Nissan and Michael again after Sandown [they finished 20th]."
Caruso has a pretty good record on the mountain having finished fifth last year and third the year before.
"The middle sector [the series of fast corners across the top of the mountain] is where I think we will shine. When you get that right, it's amazing. You know you're alive when you get that part right, with the walls beside you, it's all fourth-gear stuff, close to 200km/h. It's mega," said Gaunt. "The other sectors have those long straights and we might be a little bit down on speed in there, but we'll do the best we can with what we've got."
Gaunt has flown under the radar a little in New Zealand but is well respected in his adopted home of Australia. He ran with Kelly Racing last year co-driving with Reindler and kept in touch with the team. When Caruso arrived at Team Nissan, he was happy to entertain the idea of partnering with Gaunt and the deal was sorted out. The pair are roughly the same build so there's no need for any real changes to seat or belt set-ups at a driver change.
If the Nissans can hang together for the majority of the race, and are on the same lap as the leader with about 20 laps to go, a podium finish could be on the cards.