Drivers get set for some serious fun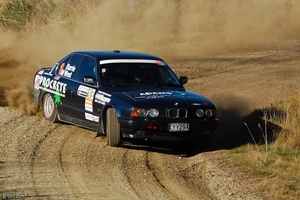 One of the country's rallies has always attracted some unusual cars and this year's Catlins Coast Rally will be no different - attracting everything from utes to luxury German saloon cars.
The event next Saturday is round three of the Mainland Rally Championship and round two of the Laird Motorsport Southern Rally series.
This year, major changes have been made to the route - only the Cannibal Bay stage remains unchanged from previous years. This now means the longest stage in New Zealand rallying is the 48km Waitepeka stage. In total, crews will cover 163km of special stage competition with a further 80km of touring stages.
Among the competitors will be Aucklander Kayne Barry in his BMW Hartge H5 V12. He was a prominent competitor in the Kiwi 2 class of the national championship a few years ago.
Barry went on to contest the Ford Fiesta ST series where he missed the national title by one point and still regards himself as the second fastest driver that year.
At the end of that season came the high point of his motorsport life when he was offered a wildcard entry to MSport's Fiesta Sporting Trophy Shootout in Britain. After that he dropped off the radar as business took over his life.
However, he kept his hand in with a little endurance racing and, one night over a beer, decided that building a BMW rally car would be a bit of a laugh. "If we were going to do it, we had to go big so it was to be V12 powered," Barry says. "I was trained as a BMW technician and I have a passion for BMW. You can't help but love them. There is a soft spot for the V12 among the mechanics so that powerplant was chosen.
"As for bang-for-buck goes, it's the most fun I've had in a car. It's a lot of fun. I have no great expectations so you are rarely disappointed. The car is obscenely fast in a straight line and excites the spectators. It is quiet, but it ticks all the boxes."
Barry has done the Paihia Rally three times, winning his class once and coming second on another occasion. He has also done the Taupo 2-Wheel-Drive Rally and was 10th overall earlier this year in the International Classic Rally Of Otago.
His trip to Catlins comes about as it does with so many drivers because "everyone talks about Catlins".
"I know Roger Laird (assistant clerk of the course) quite well and Roger always said we should do it. I always said I would love to do it but with the National Championship budgets get stretched.
"These days we are out for enjoyment and I will get a lot of driver pleasure just slinging it about. As the rally is blind - with no pace notes - the car will not be that competitive but we will do our best not to blow it up or put it into the trees."
Something else for fans to keep an eye out for is Trevor Crowe's Subaru WRX ute. A long-time racer with a reputation for fiddling with, and modifying, cars, Crowe has excelled himself this time. The ute started life as a 1.5 litre Impreza sedan before being chopped into a ute, converted to 4-wheel-drive and fitted with a 2.5 litre turbocharged engine. "For me, it is a technical challenge. It's doing something a bit different and it's good to see if it will work or not," said Crowe. "The ute was originally built for sealed events like Targa but we have converted it for shingle.
"It is early days. I've forgotten how to drive a four-wheel drive and we are not expecting miracles. We are there purely for fun.
"We actually built a workshop ute based on a GTB Legacy once. The body on this one was harder to do as it is shorter. When the other competitors saw this one, they just said 'that is typical of you'."
Barry's co-driver is Jason West, who has several national class titles to his credit.
The cars will start the event at Owaka Motors at 9am on July 27 and the final stage takes place at the Riverside Reserve in Balclutha at 3.27pm.