What they're all saying about Pukekohe - it's fantastic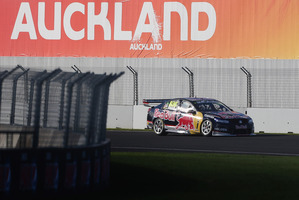 There has been much discussion around the return of the V8 Supercars to their spiritual home at Pukekohe Raceway. Some have said it should have gone somewhere else, some have said it should have never left and some have even queried the grading of the circuit.
What Driven can tell you is that the project came in on time and on budget. Now here's little tidbit for you - there were two project costs. One was for the $6.6 million which got you X and another for $8 million that got you X plus Y on top.
Now here's the thing: all the stakeholders involved went for the most cost-effective, so the $6.6 million avenue got the nod. But we got the $8 million model with all the extra bells and whistles.
The motorsport fans of New Zealand voted with their feet and turned up in bumper crowds for the Kiwi round of the series.
And rather than telling all our readers what Driven thought of the three days of racing, we asked these interested parties:
Judith Collins, Minister of Justice and local MP
"It's been a fantastic day and I love fast cars - on the track and not on public roads. I can understand well now why people love this.
"Watching the skill-sets of these guys out there is unbelievable. They're professionals, they're world class and it's incredibly dangerous but my goodness it's fun to watch.
"This is a great city and good place for this to happen."
Greg Murphy, V8 Supercars driver, former 'King of Pukekohe'
"The event has done what it was supposed to do. It's a massive event and everyone is raving about the circuit and it's great for the future.
"As far as successes go, it doesn't get much bigger than this. There's been a lot of political rubbish but you can't take anything away from the day.
"It's not like we're going to get Formula One, IndyCar or World Touring Cars here. We're doing what we planned to and it's a great circuit for these cars. It is the single biggest event New Zealand has, just look at the number of people here."
David Malone, CEO V8 Supercars
"I think it has been a fantastic three days. Seeing the crowds here over the weekend all enjoying themselves, the big numbers and great racing. I don't think we could have wanted for any more for the first event back here.
"This circuit is the spiritual home of motorsport in New Zealand and I was delighted with the way the fans have engaged with the event and seeing so many families here.
"I think we have proven over the weekend that this is going to be a major event in New Zealand going forward over the next few years."
Paul Henry, broadcaster
"I'm absolutely so pleased to see the V8s back at Pukekohe; this is where they should be because V8s are such a great event.
"I've been to Formula One and I just can't get into it. This is just fantastic, but where have the pitstops gone?
"Forgetting that, this is the place. The heritage here is amazing, this is international racing here at Pukekohe - just look at the crowd here. It's a great venue and something that a global city like Auckland needs to have."
Bob McMurray, sports commentator, former McLaren F1 team member
"I'm not speaking on behalf of any official person or organisation, or have any axe to grind but I think it's fantastic.
"The old lady was a bit tired and about to be pensioned off. I don't give a damn what category it is because the whole place has been reinvigorated and is fantastic.
"The circuit is challenging for the drivers and the teams. I know a lot of the team owners, engineers, drivers and managers and everyone likes the place.
"It has personality and atmosphere that a lot of other tracks don't have.
"It just feels right that the V8 Supercars are back here."
Jennah Wootten, Ateed general manager major events
"We've been working on this since 2012 and the last three days have been exceptional and we couldn't be more pleased with the turnout at Pukekohe and the motor action on display.
"The V8 Supercars event aligns very well with our overall events strategy and has been fantastic in positioning Auckland internationally and bringing new money into the city.
"The heritage at Pukekohe Park is amazing and I think being here and looking at people's faces as they've moved around really enforces that we knew V8 Supercars needed to return here."
A motorsport fan
"Bloody fantastic. I'll keep coming back every year it's going to be here. Much better than those bloody street circuits.
"They've done a great job of putting this on and the place looks brilliant. Love the new corners on the back straight."