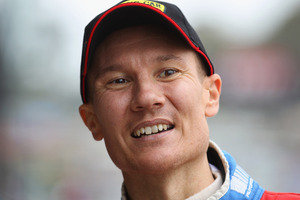 The wife of the late Jason Richards says he would approve of the trophy that bears his name that will be presented to the overall winner at this weekend's ITM 400 Auckland at Pukekohe.
Charlotte Richards, flanked by daughters Sienna, 5, and Olivia, 3, and Jason's parents Dave and Pauline, unveiled the trophy this afternoon in a poignant moment in the garage of Brad Jones Racing, the team Richards last raced for.
Nelson-born Richards, who won one V8 Supercars race and three times stepped on the podium at Bathurst in an 11-year career, died of cancer 16 months ago at the age of 35.
"We are so proud of Jason and what he achieved and grateful to V8 Supercars to honour him and make this happen,'' Charlotte said.
"I know Jason would approve. It's a look he would like ... and I love the fact it's got Jason's logo on it. It's going to be a spectacular moment on Sunday evening when someone gets to hold that trophy.''
The Jason Richards Memorial Trophy will be presented to the driver with the best combined results over the four races on Saturday and Sunday.
The trophy, designed by Frank Watson, is a two-sided glass sculpture with black onyx centrepiece and stainless steel archers depicting the fern, set into a native timber base.
"There was no New Zealander more proud,'' Charlotte said. "There was nothing he wanted more than to succeed in the V8 Supercars at home and I know he would be thrilled to see the event return to Pukekohe. To have the trophy named in his honour and to have it presented for the first time in the 50th anniversary of his favourite New Zealand race track is special.''
- APNZ