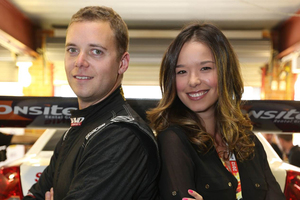 They are still in their 20s, but motorsport power couple Jonathon and Kobe Webb represent a newer, younger generation of family-oriented fans expected to flock to the V8 Supercars this weekend.
The Gold Coast-based couple formed their Tekno Autosports team in 2010, and now head a team of 23 staff, two super cars, in-house fabrications and assembly operations, and have a high-performance division.
Mrs Webb, 26, a former model and marketer, is the team's CEO and looks after day-to-day business operations. Her 29-year-old husband is a driver and team runner, who leads the technical side of racing.
The young couple say they reflect the changing face of the typically male-dominated sport.
"The demographic of our sport has changed in the very short time that I have been involved," said Mrs Webb.
"The stereotype of these bogan motorsport fans has transitioned and we're more of a commercial and corporate fan base and demographic now. The fan base of the sport has gone from predominantly male to a 50/50 split of female and male keen supporters."
She said events were becoming more family friendly with a range of activities, including children's games and rides that would be a feature of this weekend's event.
Mr Webb, who has been racing for 10 years, met his wife through mutual friends nine years ago and took her to her first motorsport event.
He said their team was one of the youngest competing at Pukekohe Park Raceway this weekend. "Being run by Kobe and myself and having that family environment keeps us really tight and the crew are massively committed to what they do and to the cars. We are close with the team and it's nice being part of a family-owned business."
It could be challenging balancing their professional and personal relationships, he said. "You're always trying to find those boundaries between work and personal life and the lines get blurred on a regular occasion but it's great to do something I love and having her alongside me and building the business. It's been a lot of fun and definitely very challenging."
A key part of their team was Kiwi driver Shane Van Gisbergen.