This weekend, a great champion returns to the town where he got his start in rallying, writes Brad Lord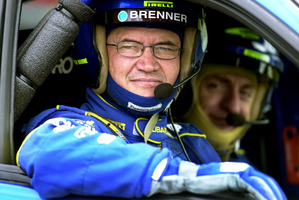 A life-size memorial to a local motorsport great is being unveiled on the main street of Pukekohe this weekend.
New Zealand's most successful rally driver, Peter ''Possum'' Bourne, was a lot of things to many people and, on the eve of the 10th anniversary of his untimely death, a solid bronze statue created in his honour is coming home after eight years watching over the Cardrona Valley.
The statue was erected in 2004, a year after Bourne died of his injuries at the age of 47, following an accident on the Waiorau Snow Farm Rd during preparations for the now-defunct Race To The Sky international hill climb, an event he won in 2001.
On the wishes of his family, Race To The Sky organiser Grant Aitken removed the memorial from its remote location last November and its Queenstown sculptor, Minhal al Halabi has restored it.
In Pukekohe, it's being resurrected at a small reserve on King St in the heart of the town
centre.
The official unveiling of Bourne's memorial coincides with Pukekohe's Golden Autoversary, a celebration that marks 50 years of local motorsport in the lead-up to next weekend's V8 Supercars racing at Pukekohe Park Raceway.
Although Bourne was raised in the North Waikato farming community of Te Kauwhata, Pukekohe was his home for most of his life. It's also where he built a successful
international motorsport preparation company, which still operates there today under his name.
The nickname 'Possum'' may have been bestowed upon him in his teenage years when he rolled his mother's Humber 80 after he swerved to miss one while driving home on a gravel road at night. But it was his high-speed talents on loose metal roads driving cars the right way up for which he is best remembered.
A recent inductee into Australia's Rally Hall of Fame, in Canberra, Bourne cut his teeth in rallying in 1979 aged 23. Piloting his home-built, V8-powered Ford Cortina Mark
1, he began that year's Woodhill Forest Rally in 48th position, but finished third overall. It was the first of many podium placements that helped propel Possum Bourne from
Pukekohe to the sport's highest international echelons.
Although a lack of funding meant he didn't rally a lot in his early years, by 1983 he had attracted the attention of New Zealand's Subaru distributor.
A relationship was forged and never relinquished.
Three years after partnering the Japanese manufacturer Bourne earned a semi-works drive at the wheel of the Subaru Leone, which took him from New Zealand to Australia and around the world via Africa, Europe and North and South America.
That was only the start, and it's the numbers that reveal the real story of his rallying successes.
Australian Rally Champion seven times straight. Three times Asia Pacific Rally Champion. Eight times first Kiwi home at Rally New Zealand and a local championship win in 1991. Bourne's crowning glory, perhaps, was his three-year tenure as a Subaru 555 works team driver from 1993 - first in a Prodrive-prepared Subaru Legacy Group A, and later in a similarly specced Group A Subaru Impreza.