Evans becomes youngest driver in history to make GP2 podium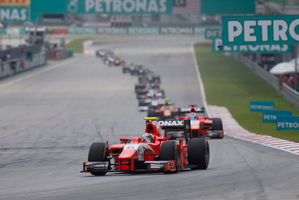 New Zealand racing driver Mitch Evans continues to prove he's one to watch when he held on to get a podium place in his first GP2 weekend at the Malaysian Formula One Grand Prix.
The Aucklander finished third behind Stefano Coletti and Felipe Nasr and at 18 years old became the youngest driver in GP2 history to finish on the podium.
Evans had qualified fifth for the first race on Saturday and before the first lap had finished was in third place after getting an excellent start. However, due to a combination of food poisoning and car set up, the Aucklander slipped down the field to finish 10th, gaining a valuable championship point.
Evans had been to the medical centre earlier in the day but was cleared to race. The biggest problem in the first race was the team's decision to go with different setups on Evans' and his teammate Jonny Cecotto's cars.
Because of concerns about tyre wear, Arden decided to dial in a lot of understeer in Evans' car to save the rear tyres. Unfortunately they dialled in too much and the fronts went off straight away and before the first lap was completed Evans knew he had a problem.
He pitted before anyone else and tried to stay out of trouble and bring the car home. "It could have been much worse so I'm satisfied with my first race in GP2," said Evans. My fitness was good and that is helping me get over the food poisoning."
Race two on Sunday morning, on the other hand, was a completely different kettle of fish. Evans and his team got the car sorted and dialled in just how he likes it and was soon up to fourth after starting 10th on the grid.
With fewer than 10 laps to go Evans was on the tail of third-placed Stephane Richelmi. Richelmi made a mistake with five laps to go and Evans pounced to gain the final podium spot.
In the wider context of the weekend, Evans finished in front of his much more experienced teammate Cecotto, who's in his fourth season in GP2, to be sixth in the championship after one round.
"I just concentrated on my own race and kept my head down," said Evans. "I looked after my tyres and was hoping they'd still be good towards the end of the race.
"I could see Richelmi was struggling and when he made a mistake I was through. Arden did a great job on my car for Sunday's race and I'm really happy."
Evans next races at round three of the F1 championships in Bahrain, April 21.
NZ Superbike champs
When the dust had settled at Taupo for the last round of the New Zealand Superbike championships, Australian Robbie Bugden held aloft his fifth New Zealand title.
Local rider Craig Shirriffs was in the hunt for the championship after a great ride in race one where he took the win from Bugden. He looked set to do the same in race two but when in second place and closing on leader Sloan Frost he ran off the track into the gravel trap. He kept his bike upright and regained the track, but could manage only sixth at the end behind Bugden.
"I locked up the front tyre braking on the white line," said Shirriffs. Meanwhile Bugden was having trouble with his tyres and was trying to just hold on.
"The bike started moving around so I slowed it down," said Bugden. "Then I saw Craig go off and I just had to bring it home. I tried to stay out of trouble. I'd done the maths before the race so I knew where I had to finish."
Bugden said this could be his last New Zealand title, as a tight budget could make it impossible for him to return next season.
John Ross claimed the 600cc Supersport title despite Auckland teenager Jaden Hassan winning both races. The minor placings will be decided by the outcome of an appeal.
Fourteen-year-old Australian Troy Guenther clinched the 125 GP championship with Aaron Hassan, Jaden's younger brother, coming very close to winning the final race.
The Superlite title went to Richard Newbery riding a 450cc Kawasaki, and rookie Hamish Murphy completed an outstanding debut season by winning the Pro Twins title.
Dixon does well
The IndyCar season got under way over the weekend with Scott Dixon, who's never won at St Petersburg, Florida coming from 20th on the grid to finish fifth.
Dixon's progress through the field was partly aided by the plethora of yellow flags. Towards the end of the race Dixon was in fourth but was muscled back to sixth after yet another restart.
However, on the sprint to the chequered flag, Dixon popped out from behind Simona de Silvestro to snatch fifth. Dixon's poor qualifying was due to his run being disrupted by debris left on the track after James Jakes pinged off the wall.
James Hinchcliffe won the race, holding out Helio Castroneves and Marco Andretti.