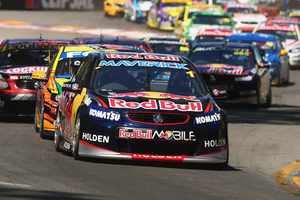 Next month's ITM 400 Auckland V8 Supercars event will not only present a new era with new cars at a new Pukekohe Park Raceway but it will also come with an exciting new race format.
Organisers have confirmed a new double race format for the sole New Zealand race on April 12-14.
There will be two 100km races on both Saturday and Sunday, each with its own high-pressured 15-minute qualifying session.
This was confirmed today when four-time V8 Supercar champion Jamie Whincup arrived in Auckland to take Mayor Len Brown for a ride in a V8 Supercar around the streets of the city this morning.
The race format means there will be no mid-race fuel stops, just 30 laps of all-out action on the revamped Pukekohe Park Raceway. While there will be a no-holds-barred sprint action, the format also demands an exhausting endurance component on both machine and driver with 400kms of racing.
"It's going to be full-on,'' said ITM 400 Auckland ambassador Greg Murphy. "Nailing the setup of the car straight off the plane in the first practice session will be the absolute key to an overall result.
"Qualifying is always vital and getting the high speed balance right is essential because Pukekohe is such a fast and flowing circuit. It's been five years since V8 Supercars have been there and, of course, there have been some significant changes. They will need to get to grips with that very quickly while still learning the new cars.
"On top of that there's 400kms of racing as well. There's not much time between each of the 100km races to make any changes, and real pressure on qualifying because one mistake will make a big difference to your starting spot.
"This is back to a pure sprint format with no pit stops, so strategy doesn't really come into it. Expect some desperate manoeuvres as the pressure to get to the front gets a bit much for some.''
V8 Supercars chief operations officer for events and motorsport Shane Howard said the format changes are the most significant in the history of the sport.
"These changes are purely designed for the teams and drivers to race hard and fight for every position,'' Howard said. "With the new marques joining Ford and Holden in 2013 it was an opportunity for a change across the board while continuing the great traditions of our signature events.''
The V8 Supercars will complete two hours of practice in four 30-minute sessions on Friday April 12, qualifying and Top 10 Shootout ahead of two 100km races on each of Saturday and Sunday.
Currently work is well advanced for the $6.6 million upgrade which will see Pukekohe Park Raceway return to its international status with an improved layout and refurbished spectator facilities including new viewing grandstands and premium viewing areas.
- APNZ