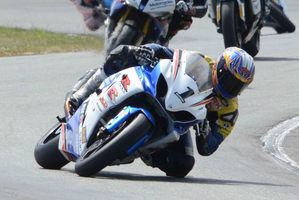 Defending New Zealand Superbike champion Robbie Bugden isn't letting a couple of crashes derail his hopes of winning his fifth national title this weekend in Taupo.
The Aussie rider crashed twice in the penultimate round at Hampton Downs last weekend, once in qualifying and once in the New Zealand TT feature race. He was fortunate to escape injury, especially in the second tumble.
"I was lucky to get away with it, to be honest - it's reasonably fast there," said Bugden.
He was also lucky to retain his championship points lead as his nearest challenger, Craig Shirriffs, also crashed - at the same time, on the same corner.
A championship leader nearing the end of a season always faces the same dilemma - whether to ride cautiously, trying to make sure of finishing, or to continue to push hard.
"I think if you change your game plan too much that's when you can start making mistakes.
"I think our attitude will be the same as all the other rounds, just go in there and do the best we can, be as fast as we can, and hopefully we'll be right up front and we'll get two really strong results," said Bugden.
Bugden still leads Shirriffs by 21 points.
The Superbikes have two races tomorrow and the winner of each gains 25 points.
In 600 Supersport, Christchurch racer John Ross has a 16-point lead and two decent finishes should earn him his first national title.