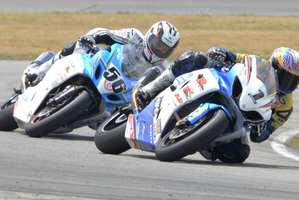 The New Zealand Superbike championship fires back into action for round four of the series this weekend at Hampton Downs after a mid-season break.
The South Island hosted the first three rounds, and again it's Aussie raider Robbie Bugden who holds the upper hand, leading the race for the title from Craig Shirriffs and Dennis Charlett.
If Shirriffs is to make inroads on Bugden's points lead he'll have to re-discover the form that saw him snatch a win from Bugden at the Timaru round of the championship. In fact, Shirriffs is the only rider to best the former champion so far this season.
"This weekend will be no different than any other race weekend," said Shirriffs. "You've got to turn up on the day and do the business.
"Robbie's no mug and he's been coming out here for a number of years now and he's the closest thing to a professional rider that we'll see in New Zealand for a long time.
"He's a classy rider and I enjoy racing against him. Winning's great but the main focus is finishing in front of Robbie to close that points gap - and that probably means winning the race."
Bugden is a four-time New Zealand Superbike champion and knows how to ride hard. The other riders respect him, as he's a clean racer who rides fair.
"So far we've had pretty much a perfect run. But as we all know it's not over yet and hopefully we can finish it off over the next two weeks," said Bugden. "Craig's certainly riding well this year and he's not letting me get away. With the points the way they are, one small mistake and Craig's right back in there so we have to try and keep the pressure on."
There's been a bit of chatter around the traps that the track surface at Hampton Downs was breaking up in places, which would make it awkward for the riders.
"Yeah, it was good to get a few laps last Friday to check out what the problem might be," said Shirriffs.
One of New Zealand's most prestigious motorcycle racing trophies will also be for grabs this weekend. Riders have been contesting the TT title since the 1930s when the race was held on Waiheke Island.
This year is the 40th anniversary of the death of one of the countries most promising at the time, Geoff Perry. Having just signed a works Suzuki contract to race AMA in America, Perry was on his way to the United States when his aircraft crashed off the coast of Tahiti.
Superbike points
After three rounds:
Robbie Bugden 145
Craig Shirriffs 121
Dennis Charlett 82
Nick Cole 75
Sloan Frost 68
Hayden Fitzgerald 59
Ryan Hampton 57