GP3 champion gets a feel for greater horsepower in lead-up to Malaysia qualifiers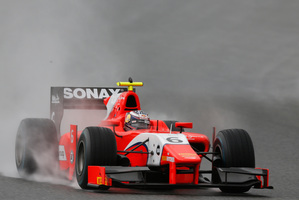 Aucklander Mitch Evans continues to gain confidence in his GP2 car after recent testing in Barcelona.
The 2012 GP3 champion is racking up track time in his new car before the opening round of the GP2 season in Malaysia on March 23-24 - a support event to the Formula One round.
It's a bit of a step up in machinery for the 18-year-old. His GP3 car was a four-cylinder, turbo-charged, 2-litre pushing out about 209kW. He's now got the keys to a 4-litre V8 developing 456kW.
After two sessions at Jerez and Barcelona, Evans has come to grips with the car and, towards the end, was a regular top-10 pacesetter. His best time was sixth fastest.
"The horsepower thing isn't a problem anymore as I'm getting used to it," said Evans. "My teammate and I were both struggling with the way the car handled in Jerez but we'd made a lot of progress by the end of the three days."
Evans finished inside the top 10 on the last day of testing in Jerez and headed to Barcelona knowing he and the team were heading in the right direction.
Even though it rained for two days, Evans made good use of his time to better understand the car's dynamics on a wet track.
"That's when you really notice all the extra horsepower. It was good to test in the wet and we were really competitive in both the rain and the dry, finishing inside the top 10 each time," said Evans.
An added pressure was managing the tyres. Teams were allowed only seven sets over the three days and those were made up of mixed compounds.
"I'm still not on top of the Pirelli tyres but it's coming to me," he said.
The Kiwi is the youngest driver in the GP2 championship and one of the few rookies so he'll have his work cut out at qualifying in Malaysia.
"It's going to make life pretty tough but at the moment we're mixing it with them in testing, and we should go all right when it comes to racing," said Evans.
Evans is in Melbourne this weekend as a guest of his manager, Red Bull Racing's Mark Webber, to acclimatise to the warm weather and the paddock at the opening round of the 2013 Formula One championship.
"I can't believe I'm racing in just over a week's time. We've been waiting for testing for so long and that dragged on and on and all of a sudden I'm at the Aussie Grand Prix.
"Mentally and physically I'm feeling on top of things. I've been working on strengthening my neck muscles and all my training is paying off. My body is holding up well in these bigger and faster cars," he said.
GP2 is a big step up from the GP3 series, but moving up the categories has never bothered Evans before.
Lurking in the background, however, is that familiar shadow.
"We haven't quite got all the money to do the whole season. We're okay for three quarters of the season and hopefully a few good results will make someone think backing me is worthwhile," said Evans.