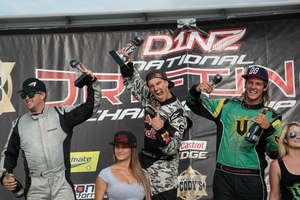 Known around the world for piloting one of drifting's most revered vehicles, "Mad Mike" Whiddett and his Red Bull/Speed Hunters Mazda RX7 and RX8 have been at the pinnacle of D1NZ for many years.
The Aucklander is now sitting third in the national championship after winning round four at Hampton Downs last weekend.
Driving his PPRE-prepared 20b RX8, Whiddett took full advantage of his home crowd at the northern Waikato venue and qualified third with 84 points, just behind Cole Armstrong and Nico Reid.
This round's top 16 was very different from others this season, with Andrew Redward taking out championship leader "Fanga" Dan Woolhouse in his Top 8 battle. This is the first round in which Woolhouse hasn't claimed a podium position.
Gary "Gaz" Whiter's Tectaloy Nissan Silvia suffered near-terminal damage in the previous round but his team brought the mangled chassis back to life - only for it to throw a con rod in the qualifying session.
Fortunately, series judge Justin Rood offered Whiter his 180sx Nissan Silvia, which was to be used for the Legends session later in the day. Whiter did not waste the opportunity, fighting his way to the top four, only to lose out to eventual runner-up Redward in a close semifinal.
Armstrong also looked likely to get back on the podium until he faced Whiddett in the top four. After his RX8 was just ahead for the first run, Armstrong was no match for the 3 Rotor and lost in two rounds, sending Whiddett to a final with Redward.
Both looked to be the drivers to beat as they peeled through the top 16, and although they both drive Mazdas sporting an RX badge, they are different beasts. While Redward opted for an 8 cylinder LS3 to propel his s5 Mazda RX7, "Mad Mike" is known for his dedication to the Wankel-designed rotary engine.
This time the PPRE team got an extra 200hp out of the 3 rotor by using a new Garrett turbocharger. That left Redward in a cloud of smoke - literally - in the day's final battle. Whiddett had the edge and as Redward was chasing the RX8 he lost his drift, straightlining - and losing.
With only two rounds left in the series, Woolhouse and his Castrol Edge Holden Commodore is still the man to beat, holding a 50-point lead over Redward and a further 33.5 points over Whiddett. After the humid and hot Hampton Downs, the drivers head to cold and slippery Ruapuna Park in Christchurch for round five on March 30.