Why not get involved with proven winner?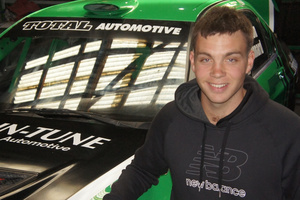 He might be a world champion but Kiwi driver Hayden Paddon is struggling to get a fulltime start in the World Rally Championship.
Paddon, with co-driver John Kennard, won the 2011 Production World Rally Championship, the first New Zealanders to gain that accolade.
But, like many Kiwi motorsport winners, Paddon is struggling to raise the money to mount another challenge in a world series.
"We have opportunities on the table to either get into WRC or WRC2 (formerly S2000 class). At the moment we don't have the required money to do so," Paddon told Driven.
"To do a full year we need about $1 million and so our plans are on hold at the moment until we can secure the funding.
"Initially we were planning to go back for the early part of the season and do a campaign similar to what we did last year.
"But we've struggled to get the funding and have had to re-focus and try to get something sorted for the second part of the year.
' We have been in talks with Hyundai and other manufacturers coming into the championship.
"However it's a bit of a double-edged sword. You have to go out there and get the results to get the drive and for that you need money.
It's difficult to get a global sponsor to commit to a Kiwi driver because this country is not a place to move vast amounts of product or services.
International players with New Zealand roots, such as Fonterra, don't have a fit with motorsport. That means trying to get a group of New Zealand firms, which might have an overseas presence, to club together - or finding someone abroad who appreciates being involved with a proven winner.
"Last year was a confidence-booster for me. Okay, we didn't win the championship but we were one of the fastest there, and we were on an extremely tight budget.
"Even with little drive time between events, we were still able to beat them as well as getting close to, and at times match, Sebastien Ogier in a world rally car.
"I'm not saying we're at that level yet but we're not far off. I think it's just a matter of being able to go out there again and showcase what we can do," says Paddon.
He has rebuilt his heavily damaged New Zealand Rally Championship car to contest the opening NZRC events in Dunedin and Whangarei.
The Mitsubishi Lancer EVO was wrecked 14 months ago when Paddon and a passenger at his sponsor ride day plunged 200m down a cliff off a gravel road closed for the event.
The car was the same he raced to victory in two NZRC, the Asia Pacific Rally Championship's Pacific Cup and the Asia Pacific round of the Pirelli Star Driver scholarship competition.
Interested in helping Hayden Paddon? Contact him through his website, haydenpaddon.com.
Winning car rebuilt.Picture / Honza Fronek