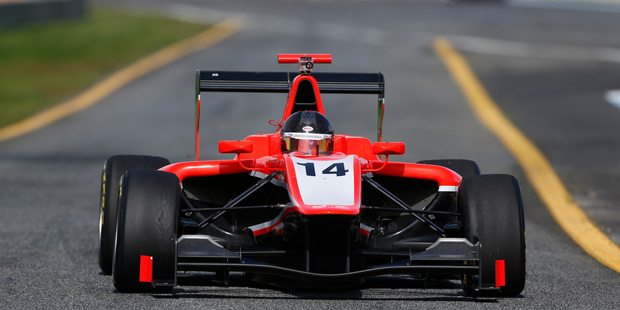 When two-time Toyota Racing Series champion Nick Cassidy received a last-minute call-up to participate in the GP3 testing he headed straight to Estoril, Portugal.
Aucklander Cassidy had been contacted by the British-based Marussia Manor Racing team, which had already confirmed Brit Dino Zamparelli and was testing Tio Ellinas and Italian Vicky Piria.
Cassidy took to the track last weekend, driving the new GP3 car, a more powerful version than the one Kiwi Mitch Evans won the 2012 GP3 championship in. "It's only one day's testing at the moment so we'll have to wait and see," said Cassidy.
The 18-year-old clocked 33 laps in the wet morning session but felt his lap times weren't where they should have been. Despite the car not being quite how he'd have liked it, Cassidy still turned in a time quick enough to put him 13th fastest of the 27 drivers.
He was also within half a second of some of the drivers who have full-time gigs in the series.
Cassidy managed to click off 41 laps in the dry conditions in the afternoon and finished 14th, just under a second off pace-setter Lewis Williamson's time of 1min 27.6secs.
"In the morning we were probably a bit further off the pace than we would have liked to have been," he said. "In the afternoon, though, when we went out we were competitive straight away. It was dry for the last two hours and at one stage I was sitting at the top of the time sheets and then comfortably inside the top three.
"Towards the end of the session we changed to a second set of tyres and it rained on my out lap and then someone went off and caused a red flag. It was our last set of new tyres, whereas a lot of the others had two or three sets to use when the track dried out later so they went a bit quicker."
Though Cassidy's times as indicated may not have been as dynamic as he wanted, the European-based drivers also had the previous two days of testing to get their car setups right, get a feel for the track and put in a big number of laps while the Kiwi was in transit.
"I was really surprised how quick we were able to get on top of the car whereas a few guys on the last day of testing were struggling a bit," said Cassidy.
"I was quite worried to start with to be honest, as I had not driven the new, more powerful car. And to be quite competitive straight away was a relief."
Marussia is keen to do something this season with the young Aucklander. Cassidy and his backers have some funding already, but need more to compete in the GP3 circuit.
Though he hasn't signed on the dotted line, there is a possibility he will make it for the opening GP3 round at Catalunya, Spain, on May 11-12.
"I'd really like to run the championship this year with them and we're working hard at trying to make it happen.
"It's been a seriously crazy time at the moment and everything is happening quickly.
"Ever since [he was called] it's been non-stop and I'm really hoping we can get it all together. It would be crazy to have Mitch racing GP2, Richie Stanaway in Porsche Supercup and me racing GP3 all at the same meeting."
If those three young Kiwis, with Brendon Hartley who does simulator work at the Mercedes AMG Petronas F1 team, are all in the pits on a Formula One race day it'll be like winding the clock back.
- DRIVEN