Bad luck hasn't dented Kiwi's optimism ahead of Supercar season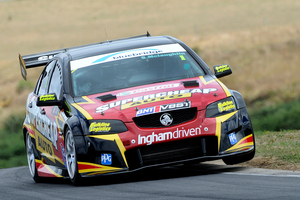 Fuggedaboutit! That's about all Scott McLaughlin could say about opening the defence of his V8 SuperTourers title. The Aussie-based Kiwi V8 Supercars driver arrived in the country on Saturday night after testing his new V8 Supercars Car Of The Future across the Ditch and jumped straight into his SuperTourer for qualifying at Hampton Downs on Sunday morning.
While not having the best 20 minutes of qualifying, McLaughlin still managed 13th place for race one. Unfortunately he was punted off the track on turn one, lap one, an accident largely caused by an over-exuberant Andre Heimgartner.
With three of the four corners of McLaughlin's car badly damaged it was a big ask for his team to get the vehicle ready for race two, or even race three. This is one of the drawbacks of having qualifying and three races on the same day - severe damage early in the proceedings can ruin your whole day.
Credit to his crew. McLaughlin did manage a few laps in race two towards the end, but engine issues ended his foray into the feature race three and he retired early.
On a positive note, drivers are allowed to drop the points from one round of the seven-weekend series so McLaughlin and co won't be too disappointed in binning the meagre 27 points from last Sunday.
While obviously miffed, McLaughlin was happy to talk about testing his new Gary Rogers Motorsport V8 Supercars ride.
"The new car's great. The boys at GRM have done a great job to get it up and running in such a short time.
"The car has been running faultlessly so far, touch wood, so we'll just keep pushing forward."
McLaughlin will be at the Clipsal 500 in Adelaide from February 28-March 3.
The Kiwi has proven he can mix with the best in Aussie tintop racing, having finished sixth at Bathurst in his rookie V8 Supercars event there. He also placed a gallant 17th after a late callup to the last round of the 2012 championship in Sydney.
"Everybody will have their best gear on at Clipsal and hopefully we'll be there or there about.
"The car feels really comfortable, I'm not stretching for anything and I have a great engineer in Richard Hollway who's worked with Mark Skaife in the past and is a championship winner."
Every team in the 2013 series is starting from a level playing-field, so McLaughlin couldn't come into the main game at a better time. Nobody knows what's going to happen when the gloves come off in just over a week's time.
"Everyone's getting used to the new cars, but I'm sure drivers like Jamie Whincup, Craig Lowndes and a few others will find a way to be fast - they're always fast.
"The cars feel different to the old ones, especially the gearbox, which is more positive. It's a little bit faster and there's more grip with the 18-inch tyres.
"It still fundamentally feels like a V8 Supercar - it's still got the same amount of downforce as the old cars. While there's not a huge amount of difference, there's more than enough to make getting used to them a bit of hard work."
McLaughlin's goals for his first hit-out at Adelaide as a main game driver are realistic. "We had excellent testing and we were regularly in the top 10. I would be very happy with a top-15 finish in both races. I would be over the moon with top-10 finishes in both races.
"A podium and top-five finish would be like winning he championship for me."