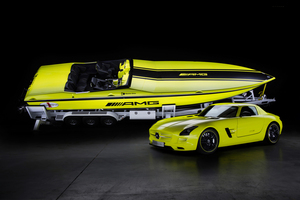 At the Paris Motor Show in 2012, Mercedes-Benz' go-fast arm AMG showed off an electric version of its flagship SLS.
The SLS AMG E-Cell, presented in an attention-grabbing electric blue, boasted numbers that wowed the crowd even more than the paint job.
With an electric motor at each corner, the car used a pair of gearboxes to put 552kW and 1000Nm to the ground for a 3.9sec sprint to 100km/h.
So now they've created an E-Cell boat - and judging from Merc's PR pics, you can get a matching set.
The Cigarette AMG Electric Drive Concept was shown at the recent Miami International Boat Show.
It uses the AMG electric cleverness to make an eye-watering 1640kW and 3000Nm out of four 60-kWh lithium ion batteries teamed with two banks of six liquid cooled permanent-magnet synchronous electric motors.
That 240kWh pushes the 11.5m craft to a top speed over 160km/h, and takes seven hours to charge.