Steve Ross will defend his F5000 title in today's Tasman Series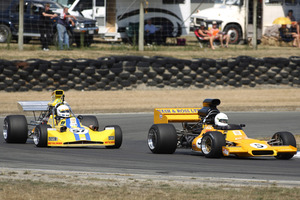 Fans of the mighty F5000 cars have their last chance to watch the booming beasts this season at Teretonga during the weekend.
In the early 1970s crowds flocked to the annual Tasman Series meeting at the Southland circuit in late January to watch top Kiwi drivers such as Graham McRae, Graeme Lawrence and David Oxton take on Aussies, Brits and Americans.
Many of those fans will be back this weekend to watch the 16 cars in the MSC New Zealand F5000 Tasman Cup Revival Series repeat the exercise at the annual Evolution Motorsport Classic Speedfest.
Appropriately a Kiwi driver - defending champion Steve Ross (McRae GM1) from Dunedin - has a healthy lead in the points, with series original Ken Smith (Lola T332) second and newcomer Clark Proctor (March 73A) third.
Smith, a two-time series winner, decided not to travel to the southern rounds this season, so the weekend's battle will be between Ross and Proctor.
The latter worked his way into contention after his first pole position at the first NZ Festival of Motor Racing meeting at Hampton Downs in January and his first MSC series win at the second festival meeting a week later.
The former speedway, NZV8s and Targa competitor has gone on to claim a second pole and two more race wins at the annual Skope Classic meeting at Ruapuna, Christchurch.
Ross is in no doubt what he has to do this weekend. "Keep this new fellow behind us," he grinned after doing just that at the Skope meeting a fortnight ago.
Of the internationals, the Australians have the best record at Teretonga, with Neil Allen winning in 1971, Kevin Bartlett in 1972 and Max Stewart in 1974.
Three of their compatriots race this weekend - Bryan Sala (Sydney, Matich A50) and Melburnians Paul Zazryn (Lola T332) and Bill Hemming (Elfin MR8A-C).
Sala qualified quickest and won a race - beating Smith and Ross - at the opening round of this season's MSC series in Sydney in September.
Three British drivers are competing. Their countryman Alan Rollinson won the 1973 Teretonga race in a McRae GM1, so it is appropriate that Greg Thornton also drives one.
He, Michael Whatley and Monaco-based Peter Dunn have all run strongly at earlier MSC rounds. Thornton won two of the three races at the non-championship Sydney round.
Whatley is one of the quickest drivers of earlier Class A cars, qualifying third and finishing third in two of the three MSC races.
Sam Posey was one of a few American drivers who ventured Downunder to contest the Tasman Series. His legacy will be celebrated by 71-year-old Eric Haga from Seattle, who is not only still competing in Formula 5000 races here and in the US, but driving the same car (a Lola T190) he used first time round.
Lindsay O'Donnell's Begg FM5 is another with a strong local pedigree. The car was campaigned by Allan McCully of Drummond, Southland, whose best Teretonga result was sixth in 1974.
Also joining the field is Phil Mauger of Christchurch, who owns and drives the ex-Denny Hulme McLaren M23 Formula 1 car.
There are three MSC NZ F5000 Tasman Cup Revival Series races. Qualifying is this morning, with an eight-lap race in the afternoon, then a second eight-lap race tomorrow morning and a 12-lap final in the afternoon.
Points table
Points after 5 rounds of 6
1 Steve Ross (McRae GM1) 507
2 Ken Smith (Lola T332) 377
3 Clark Proctor (March 73A) 341
4 Aaron Burson (Talon MR1A) 327
5 David Banks (Talon MR1) 298
6 Alan Dunkley (Lola T140) 289
7 Greg Thornton (McRae GM1) 264
8 David Abbott (Lola T430) 262