NZ Festival of Motor Racing celebrated the late Denny Hulme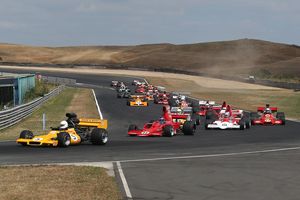 Two very successful weekends at Hampton Downs brought bumper crowds to enjoy motor racing from bygone times. The unusual format of two full weekends of racing celebrated the career of New Zealand's only Formula One world champion, Denny Hulme.
The event had big fields of F5000 cars going hammer and tongs at each other for round five of the Tasman Cup Revival series, and fans were also treated to a display from another celebrated class.
The larger-than-life US-based Can-Am series cars were also in action. Hulme was one of the foremost drivers in the category, winning the championship twice - in 1968 and in 1970 - and runner-up in 1967, 1969 and 1972 while racing for Kiwi driver and constructor Bruce McLaren.
A collection of his on-track and off-track machinery was on display, including the Can-Am car he drove to win the 1968 title and a McLaren M23 F1 he drove in Formula One.
His Can-Am boat, racing truck and the BMW M3 he was driving when he suffered a fatal heart attack at Bathurst were also on show.
As well as the F5000s, fans saw one of the biggest fields of original specification Australian, New Zealand and US V8-engined Historic Muscle Cars on track.
The classic years of Group A racing were also re-visited with a field of 30-plus cars from all over New Zealand.
The international Formula Junior and Formula Three category - another class in which Hulme raced - had two grids on the first of the back-to-back weekends and a full grid of 37 on the second weekend.
Fans could watch Formula Junior and Formula Three cars from Brabham, Cooper, Elva, Emeryson, Gemini, Lola and Lotus; Italian-built racers from Autosud, Stanguellini, Taraschi and Volpini; Australian cars from Ausper, Donford, Elfin and Nota; and the NZ-built FMZ.
Veteran racer Kenny Smith, who raced F5000s in their heyday four decades ago, showed his class again with three wins at the opening weekend's racing.
It is even more impressive that Smith won it in a car rebuilt after a major accident at Manfeild and finished only hours before the event.
In the second weekend's action, Smith couldn't quite be as dominant and had to settle for three second places. Steve Ross picked up two wins and Clark Proctor took out the feature race.
Smith shouldn't be too concerned at not winning all six races, as he is in his 55th year of competitive racing, but still going strong.
The New Zealand Festival of Motor Racing's international appeal has grown over the past few years and it attracted more than 100 drivers from all over the world.
Group A - the type of car used in the Wellington Street Races - drew a big field and plenty of knowing nods from the knowledgeable crowd.
Formula Junior driver Pierre Tonetti, arguably the best driver in the world in the category, was unbeatable on his first visit to New Zealand in his two Brabham BT16s.
In the Historic Muscle Cars, New Zealand's top drivers took on the best from the Australian Muscle Car series. Tauranga's Dale Mathers and Peter Stevenson, and Aussies Ethan Lind and Ian Woodward were the stand-out drivers.
Roger Williams dominated the Can-Am encounters in his dark blue McLaren, and circuit owner Tony Roberts, and Barry Kirk-Burnand in their McLarens could not keep pace. Former two-time World Touring Car champion Paul Radisich hustled Paul Halford's excellent but older McLaren M1B with some of his former career's pizzazz to keep the others honest.
Next year, festival organisers will celebrate the life and times of one of the greatest automobile and racecar manufacturers - Ferrari. They promise an amazing selection of machinery and a packed programme of historic motor racing.