Tri-series victory perfect build-up to Superbike championships for Christchurch rider.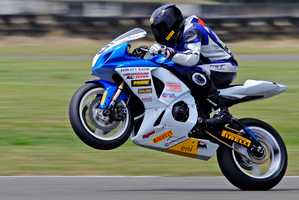 With barely time to draw breath after the Suzuki Tri-Series, riders are gearing up for the opening round of the New Zealand Superbike championships this weekend at Ruapuna, Christchurch.
Three-time New Zealand 600 Supersport champion Dennis Charlett showed he hadn't forgotten how to ride a superbike by winning the Tri-Series from a hard-charging Sloane Frost.
It shouldn't have come as too great a surprise that Charlett was capable of taking it to the big bike frontrunners, after winning the 2007 South Australia and Victoria Superbike championships.
One of Charlett's main rivals, Andrew Stroud, in the three-race series was sidelined by an accident at round two in Manfeild after a coming together with Sloan Frost. Stroud, who already has nine New Zealand Superbike titles to his name, will also miss the five-round national superbike series due to the damage he sustained to his collarbone and knee.
This by no means opens up the series for Charlett, as Australian Robbie Bugden is very keen to notch up his fifth Kiwi title. And with a few other local fast chaps, Charlett will have to make sure all his planets are aligned if he's to add the domestic superbike championship to his growing collection of trophies.
"It's quite nice to get the Tri-Series done and win that," said Charlett. "We've just had a bit more success as we head to Christchurch having won the Ports of Nelson Street Race."
Two-from-two for Charlett will give him and his team a good fillip for the upcoming series, and while he's confident of being able to give it his best shot, he'll not be looking at past glory as an indicator of things to come.
"I don't take anything for granted. Things are going well but I don't want to jinx anything by thinking too far ahead. I am, however, really happy with my bike and it's going really well.
"I'm getting the hang of the bike now and adapting really well to it and it's awesome. I've found the Suzuki GSX-R1000 relatively easy to ride in comparison to the old superbikes.
"It puts the power to the ground nicely and it's just like my old 600 to ride - with a hell of a lot more grunt though. The harder I push it the easier it seems to be to ride," said Charlett.
The Christchurch rider will be on home turf and while that may be an advantage in some people's eyes, Charlett plays more of the long game. He'll be out to win as many races as he can but has his eye on the main prize - the New Zealand championship.
As with most things sporting, consistency is the key and points mean prizes. Charlett has been around long enough to know that at times discretion is the better part of valour and he'll be approaching the first round with the last round in March in mind.
"Consistency is very important but I have to go into this series pushing it a bit harder. There's quite a big expectation on us now but we're trying not to worry about that and just do the best we can. If I can win it, I will," said Charlett.
Bugden is going to be very fast and any one of about seven riders is going to be in with a chance of winning races and even the title.
"It's a real challenge at the top of the sport now with riders like James Smith, Ryan Hampton, Hayden Fitzgerald, Ray Clee, Nick Cole, Sloan Frost and Craig Shirriffs. There's going to be a bunch of us right at the top fighting it out," said Charlett.
As well as trying to get the jump points-wise on each other at the opening round of the series, riders will also be chasing glory in the New Zealand Superbike Grand Prix over the weekend in a one race winner take all special event.
As well as the big bikes, two-wheel race fans will also be entertained with races for the 600cc supersports, superlites and pro-twins, 125GP bikes, 250cc production bikes, sidecars, buckets and clubmans.

Superbike series
January 5-6 Ruapuna
January 12-13 Timaru
January 19-20 Teretonga
March 16-17 Hampton Downs
March 23-24 Taupo