Exciting match-ups certain as new season begins, writes Andy McGechan.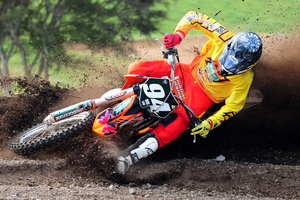 The big annual Labour Weekend Motocross Extravaganza in Taupo looms large as the first major hit-out of the season for New Zealand's motocross elite.
World, national and provincial titles count for nothing, international credentials are expected to be challenged and past loyalties go out the window as the new season brings forward fresh and exciting match-ups this Saturday and Sunday.
Recent Suzuki Six-hour co-winner Scotty Columb (Suzuki) has been fighting wars on several fronts in the past few weeks and, after winning the marathon cross-country race (while teamed with Te Awamutu's Mark Penny), he quickly changed tack, crossing the Tasman and changing bike models to battle at the opening round of the Australian Supercross Championships last weekend.
He barely has time to catch his breath as he switches to a third motorcycling code, motocross, to race at Taupo's Digger McEwen Motocross Park this weekend.
The Queenstown ace will go head to head with national MX2 and world veterans' motocross champion Darryll King (Yamaha), of Hamilton, in the MX2 class at Taupo and will likely come up against Australian under-19 champion Kayne Lamont (KTM), the BikesportNZ.com rider from Mangakino just back from racing for Team New Zealand at the Motocross of Nations in Belgium.
"Racing in Australia throughout 2012 and also racing at the Motocross of Nations in Belgium has given me a lot of experience," said 19-year-old Lamont, the local rider hoping to put on a show for his fans.
"My body got pretty beaten up in the deep sand of the Belgian track and it's taken me a while to recover, but I've had a few days' rest now and I should be ready to go."
Mount Maunganui's Rhys Carter (Suzuki), New Zealand's MX2 class reserve rider in Belgium last month, Brighton's Campbell King (Honda), Kaukapakapa's Josh Jack (Suzuki) and Auckland pair Brandon Tipene (Kawasaki) and Shaun Fogarty (KTM) also loom as potential race winners in the fiercely fought MX2 category, while visiting young Australian Jesse Dobson (Kawasaki) adds extra international flavour to the action.
The MX1 class is likely to be dominated by Moto City Suzuki ace Cody Cooper, the former national MX1 champion and current No.2, although local favourite Nick Saunders (Kawasaki) and Whakatane all-rounder Mitch Rees (Honda) could give him a hurry-up.
BikesportNZ.com rider Logan Blackburn (Yamaha), from Tauranga, is tipped to feature in the senior 125cc class, although Atiamuri's Hadleigh Knight (KTM), Auckland's Sean O'Connor and Matamata's Jacob Kneebone (Yamaha) should also be in contention.