Possible calendar change simply logistics says Oz owner, but officials call for clarity.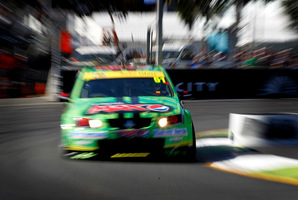 The return of the V8 Supercars to Pukekohe could be put back from April to November next year.
V8 Supercars media manager Cole Hitchcock said the possible move was linked to finalising the calendar of 16 events.
"It's not unusual we move dates from place to place," he said.
Mr Hitchcock said there were no issues, such as the upgrade of the Pukekohe track or noise, delaying an April start, it was simply a matter of putting a jigsaw puzzle together for the calendar.
The Auckland Council's strategy and finance committee voted in July to spend $10.6 million to ensure the return of the annual events to Pukekohe Park next April for five years.
They approved the spending on the recommendation of the council's events arm, Auckland Tourism, Events and Economic Development (Ateed).
Ateed chief executive Brett O'Riley said the events body was comfortable with either April or November.
Both dates were in the shoulder tourism season and would deliver the same forecast benefits to the Auckland economy, he said.
An Ateed spokesman said the body was unaware of any issues that could force the event being moved back to November.
Mr Hitchcock said the final calendar would be released in about two weeks.
Since Ateed signed the deal, V8 Supercars Australia executive chairman Tony Cochrane has quit, leaving Ateed to deal with the company's major shareholder and private equity firm, Archer Capital.
Under the deal, the ratepayers' contribution of $10.6 million is capped and V8 Supercars Australia will own and underwrite the event.
Last night, councillors Cameron Brewer and George Wood expressed concern at putting the event back six months.
Mr Brewer said rumours were circulating about Ford's commitment to the event and television packages for New Zealand and Australia.
"These deals are worth big bucks and are critical to lock-down, without these rights the event would be in trouble," Mr Brewer said
He said Ateed should have focused on these issues and the impact of Mr Cochrane exiting the stage.
"Alarmingly, there are now further questions and seemingly fewer answers," Mr Brewer said.
Mr Wood, who has described the upgrade of Pukekohe track as "back-of-cigarette-packet planning", said he believed no work had been done on the upgrade and it was still going through the planning stages.
Ratepayers, who were investing $10.6 million over five years, deserved an assurance about the financial viability of the event, he said.
The event is returning to the Pukekohe race track after it was raced on a street circuit in Hamilton, costing ratepayers $40 million and leading to a damning Audit NZ review.