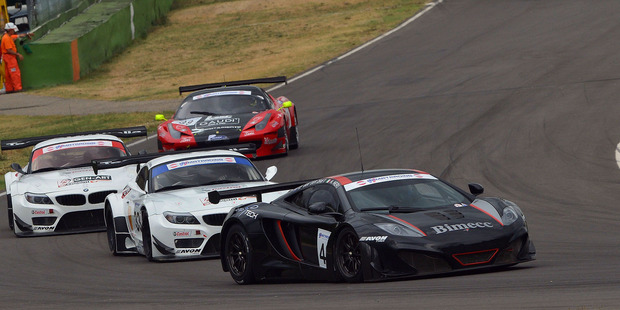 Earlier this year Driven spoke with New Zealand single seater exponent Chris van der Drift after he had again podiumed in the Auto GP racing series. Van der Drift has a growing international reputation as the go-to man when it comes to a last minute call-up for a team without a regular driver.
Now known as the "Van der Drift effect", the Kiwi has an uncanny knack of being able to strap himself into anything with a single seat and tyres on four corners and go fast. When we last spoke to him he mentioned racing in "World Series would also be very nice but you need a big budget for that. That's something I don't have at the moment unless someone comes along, and GP2 is out of the question because of money".
"The tin-top guys are also asking me to come and race for them but I'm delaying that for a bit as I still want to race single seaters. Having said that, I'm open to all options and are talking to some touring car guys as well and GT racing," he said.
Guess what? Van der Drift has been racing in the Italian GT3 championship and despite having to share the car with another, and having a roof overhead for the first time, the Kiwi is doing well. In his first two outings at Imola, and last weekend at Mugello, he and his Bhaitech Racing team have been among the fastest.
"We had quite a good day today especially in the second race but we're still learning lots," said Van der Drift. "We finished eighth today but you have to share the driving and my teammate [Alessandra Neri] today's not up to the same speed as I am so we struggled a bit. It was still good, though. I brought the car back from 14th to eighth and was lapping the same times as the top three so the speed was really good."
Van der Drift has driven just about every international single seater class there is including New Zealand's A1GP car. He has also finished on the podium at some stage in all of them.
Unfortunately, he's probably best remembered for launching himself into the air, via Julien Jousse's car, and trying to take out the overpass bridge at over 240km/h at Pilgrim's Drop during a Superleague race at Brand Hatch, UK in 2010.
The former Formula Master, Formula BMW and Formula Renault champion broke his right ankle and right little finger, fractured his shoulder blade, broke two ribs and severely damaged his left index finger.
Just months later he was back in a Superleague race in which he finished a very creditable seventh.
You can't keep a good man down, and this is his first foray into GT3 racing, or any kind of saloon car racing for that matter, and to be circulating with lap times in the top five can't be all bad.
"This is the first time for me in a car with a roof and it's also the first time the team have campaigned a category other than single seaters so it's all very new. We've struggled a bit this weekend because it's a track [Mugello] that's hard on tyres. In the first race we were absolutely murdering the tyres.
"For me, this type of racing [endurance], where you have to share the car with someone else, is all a bit odd at the moment and she's [co-driver] a little bit inexperienced at the moment," said van der Drift.
He's recently changed his management and soon landed the gig with Bhaitech Racing, who he's had dealings with when he tested in GP2. They were approached by McLaren to run an MP4-12C GT3 car because there weren't any racing in Italy.
It'll all be incredibly new for everyone from the team owners, mechanics, engineers, pit crew and drivers, so this season is more of an elaborate test session than a tilt at the title. That may come next year.
"We're not really worried about results at the moment as it's more about getting sorted for next year. All a big test day really.
"Yesterday [Sunday], I had only done 10 laps in the car on the only track I've never driven on before in Europe, and after two laps I was in fourth place in qualifying. But then my tyre popped and exploded and you don't get another set.
"I was quite surprised really. But in the race, once I got going, I passed the bloke who won the last race and pulled away to lead him by five seconds."
It comes as no surprise the Kiwi is fast. He's a proven champion and is patently very quick in anything with an engine.