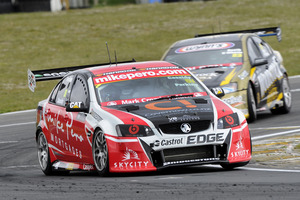 When Nick Cassidy won the Toyota Racing Series and the New Zealand Grand Prix, racing in Europe beckoned. Not surprisingly, after beating some more fancied international competition in the TRS, Cassidy was taken under the wing of a former Formula One team principals who brought some young charges here for our international open-wheel series.
Cassidy caught the eye of former Lotus F1 team principal Peter Collins and has been mentored by him in the Kiwi's first foray into Europe. Despite a promising start to this year's Formula Renault Eurocup campaign, where Cassidy was only 11/1000 from pole position for race two, a decision has been made to cut short his participation in the remaining rounds following disappointing meetings at Spa Francorchamps and Nurburgring.
Collins knows talent when he sees it, having worked with Nigel Mansell, Johnny Herbert and Mika Hakkinen.
Collins has worked closely with Cassidy during his time in Europe and remains convinced of his potential.
"Despite a difficult start to his Eurocup season, I have absolutely no doubt of Nick's potential and dedication," Collins said. "I remained convinced that Nick is one of the most complete drivers I have seen in many years and will support him in every way possible in pursuing his ambition.
"His speed, race craft and determination have been clear to see and these attributes are fundamental to good drivers becoming great drivers."
New Zealanders saw recently how good Cassidy is behind the wheel of a racecar.
In his first V8 SuperTourers endurance rounds, Cassidy set one of the fastest laps in qualifying and, with former V8 Supercar driver Jack Perkins, won the first race of the weekend.
That sort of talent needs the right machinery and sometimes it's better to take the long view and re-evaluate what situation is best looking to the future. After the lack of competitiveness at the last two rounds of the Formula Renault Eurocup championship, it was decided to withdraw from the Eurocup series with a view to returning to Europe later in the year with a programme that can ensure a more competitive 2013 season.
"We started the season really well in Motorland, Spain doing really well to qualifying in the top five for both races," Casssidy said. "Unfortunately, in the second race of the weekend a lot of damage was done to car.
"The car was sent away to France to be repaired but was never quite the same again. There were a few mechanical issues in the next two rounds and things weren't quite as competitive.
"I remember at Nurburgring looking forward to racing the car but it wasn't right and I qualified 30-something out of 40. Luckily the race was wet so it was more of a level playing field and I went from the back of the grid to 11th and it was probably one of the better drives of my career and that's something I'm really happy about."
Cassidy is determined to prove he can cut it in Europe and has decided rather than persevere with a situation that's not working to regroup and approach the dilemma from another angle.
Cassidy will return to Europe next month for a Renault Eurocup test in Spain, that he's eligible for after winning the TRS championship. "It's great that I have the chance to go back to Europe and test in a car I know quite well. It's a shame my Renault Eurocup season didn't work out but I can't thank Fortec enough because they gave me a massive opportunity to go racing in Europe. "The experience has been great and I can only look forward to building on it," said Cassidy.