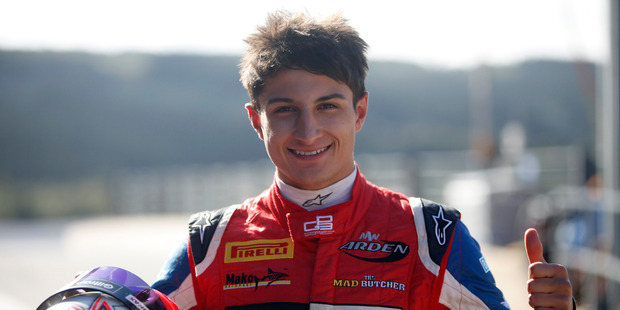 Regardless of the result in today's final round of the GP3 series, Mitch Evans will be moving one step closer to his Formula One dream next year.
Evans has been assured that he will be graduating to either the GP2 or World Series Renault in 2013, despite the significant financial impediments to participation in either series.
Going into the final two races at Monza (raced today New Zealand time), Evans held a handy points advantage over nearest rival Antonio Felix da Costa.
Evans was 21.5 points ahead of da Costa with a total of 48 points available across the two races and significantly, at 18, the Kiwi is the youngest of the four drivers in contention for the title.
Sealing the championship would be a major achievement - and a huge boost to his career - but thankfully not everything hinges on a chequered flag today.
"I've been told [by team management] that I will be moving up," Evans told the Herald on Sunday, "which takes some pressure off. Obviously GP2 would be the ultimate goal next year but we have to decide what is the best option for us. You never know what will happen in motorsport."
Evans has been well supported so far in his career, principally by motorsport identity Colin Giltrap and his father Owen Evans, while others such as the Mad Butcher, Jennai and Mako have come on board more recently. But the harsh reality of the sport is that until you reach somewhere near the top, you will be paying for your seat; it's a fine balancing act, especially for Kiwis who need to demonstrate their ability before they run out of money.
Racing in the GP3 series requires a budget of around €500,000 ($792,100). To compete in World Series Renault, Evans and his backers would need to find around €900,000 ($1.42 million), while GP2 would see that rise to between €1.3 million and €1.5 million ($2.06 million-$2.37 million).
That usually covers a set number of test and race days - the team basically provide a full service operation in terms of running the race car.
Travel and accommodation usually remain the responsibility of the driver, along with race insurance and any accident claim excess payment.
The winner of the GP3 series receives a cash grant but that comes with a caveat - it must be used towards costs in the GP2 series the following year.
"I've had an amazing amount of backing and have been very fortunate," says Evans. "To find those amounts next year will be incredibly hard - it could be three times this year's budget - but hopefully people want to support me."
Evans also retains the not inconsiderable presence of Mark Webber in his corner and the Red Bull F1 driver has significant influence in the sport. The two have developed a strong bond since meeting at the Australian Grand Prix three years ago and Webber is both a mentor and manager to the young Kiwi. Evans even lives in a cottage on Webber's sprawling Buckinghamshire estate and the two spend plenty of time together cycling, running and cross training.
Whatever unfolds today, Evans can reflect on a stellar season.
In an incredibly competitive championship (there have been eight different winners across the 14 races before Monza), the New Zealander is the only driver to win at three venues (Barcelona, Valencia and Hockenheim) and he has also grabbed two pole positions. His MW Arden team has sometimes struggled with getting the set-up and engineering spot on, especially in wet to dry situations within races.
"I'm pretty happy with how it has gone," says Evans. "There have been some things beyond my control - I've had punctures in two races - and sometimes it could have been a lot smoother but that is all part of racing.
"I think I have been a lot more consistent this year [in 2011, Evans started brilliantly before eventually fading to finish ninth] and part of it is about learning how to live and race in Europe. Things have become a lot more second nature."
The learning curve will steepen again next year, especially if Evans makes it into GP2. The drivers will be at a similar level but the cars are much harder to drive.
Evans expects that a decision will be made "not too long after the season ends", with testing for either series getting under way at the end of next month.
"It would be huge for me to make it into GP2," says Evans. "It would be the ultimate proving ground. I don't know if it would be make or break but it would be somewhere close to that."