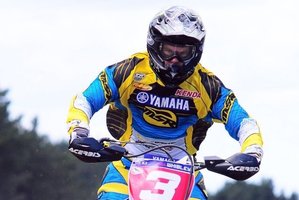 New Zealand's Paul Whibley has done it again, winning the high-profile Off-Road Motorcycle and ATV (OMA) series in the United States for a record fifth consecutive season.
The Yamaha ace from Pahiatua won round eight of this year's series at Dayton, Iowa, just over a week ago, making it his eighth-round win in a row as he gave none of his rivals even the merest sniff of a chance this season.
The former Manawatu forestry worker, known affectionately in motorcycle racing circles as "the Axeman", has won the OMA title every year since he first won it in 2008 but none of his victories were quite as comprehensive as this year's.
"Dry conditions and a fresh track would make passing tough so a good start would be important," said Whibley.
"Russell Bobbitt and Nick Fahringer also knew the importance of the start and as we all launched towards turn one after the flag dropped the handlebar-banging began.
"Nick tried to go around the outside, so Russell took him deep into the turn, I was able to sneak up the inside and take the holeshot and command of the track from there. The trail was open and fairly free-flowing with nothing too tight, but there were not many places to get beside someone and make a pass, so I tried to push early because, once we were into lapped traffic, I knew it was going to be hard to maintain the momentum.
"I pulled out to about a 13-second lead over the first few laps, Russell moved into second and closed the gap to about five seconds by the fuel stop."
But, after the fuel stop, Whibley was back on the track and trying to make a break for it.
"On one of the hills I caught a bunch of riders, the lead guy got stuck with the following riders either piling into the back of him or diving to the sides in an attempt to keep moving. Luckily for me, as they fell they tipped apart and I was able to gently pop over their wheels and carry on up the hill.
"Russell kept the pressure on and I was not able to pull too much of a lead. With the win I was able to wrap up the OMA series for 2012."
Whibley hopes his winning momentum will carry on and see him wrap up the parallel Grand National Cross-country Championships (GNCC) when that series resumes after its mid-summer break for the final four rounds starting with the 10th round of 13 at Unadilla, New York, on September 16.
On current form, Whibley feels confident he can reclaim the GNCC crown he last held in 2009, thereby making it a doubly glorious 2012 American campaign for the Kiwi hero.
Whibley is supported by Monster Energy, Sargent Yamaha in Masterton, MotoSR suspension, BikesportNZ.com, Graphic MX Creation and Yamaha New Zealand.