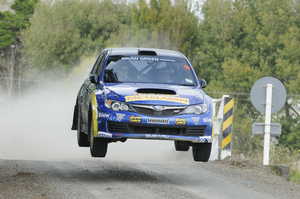 Three-time New Zealand rally champion Richard Mason is on the cusp of adding another national trophy to his cabinet collection.
The Masterton man and his co-driver wife Sarah are taking to the roads in and around Gisborne this weekend in an effort to clinch his fourth title, and it'll take some serious bad luck to hold them back.
Mason has a 38-point lead over the chasing combination of Emma Gilmore and co-driver fiancé Glenn Macneall, who's now back in the car after finishing his Asia Pacific Rally Championship commitments.
Even in a worst case scenario where Mason failed to finish the rally, Gilmore would have to take the outright win and pick up a few bonus points along the way to leave Gisborne as the New Zealand rally champion.
Third placed Matt Jansen is a hefty 25 points behind Gilmore. Mason though, isn't one for complacency, and will want to finish the rally at least in the points.
"We're feeling pretty confident and not surprisingly either," said Mason. "Our speed has been quite good this year and results and reliability have come together quite nicely. After the last round [Rally New Zealand] we've found ourselves in a good position where our opposition would have to win and we would have to fail to finish.
"I want to go and do some testing this weekend and try a few things but Sarah tells me that she wants to end the championship with a win.
"I guess I'll have to find a way to do both. Maybe we can start off with some testing and then get serious."
Being the odds-on favourite to not only win the rally, but the title as well can be a blessing and a curse. Mason will firmly have his mind on the work at hand and an eye on the NZRC prize. Gilmore meanwhile, will want to end her up and down season on a high note holding the round winners trophy aloft.
It's a fairly safe bet Gilmore will end the 2012 season as runner-up for the third time in as many years.
"The championship title is out of our control now, we can only do the best job possible and what happens, happens," said Gilmore.
"We can only do what we have to do and it's up to Richard really. If he has a problem we might have a chance so it's out of our control.
"We'd still love to have a win for the final round of the championship - that'd be absolutely awesome. Our aim is to have a strong finish to the season.
"We've had some pretty good speed all year but we haven't been able to string it all together for a whole event due to various problems and bits and pieces.
"It would be good to have a nice clean event but then again I don't know if that's possible in motorsport."
Ben Hunt in his Ford Fiesta will be buzzing after two successive round wins over Phil Campbell and sits 14 points in the lead of the 2WD class.
Heavy rain through the Gisborne and Tolaga Bay districts during the past weeks will cause grip levels to be a bit of a lottery, so all 60 drivers will have to be on their toes over 295km through 12 special stages.