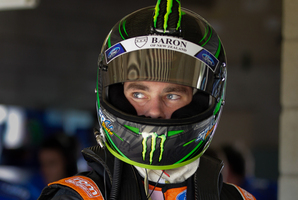 Kiwi reckons the resurfaced Queensland Raceway is still dodgy.
New Zealander Shane van Gisbergen is hoping his luck will change when the V8 Supercars resume this weekend at Queensland Raceway.
Van Gisbergen, who is hanging on to fifth in the championship, is not too sure the new surface is going to make the racing much better.
"The track did get resurfaced but they didn't do a very good job of it," said van Gisbergen. "They just went over the top of the old surface and the bumps that were already there. Since we tested there at the beginning of the season, and again just recently, the track has really deteriorated and the bumps are almost as bad as they were."
Van Gisbergen started the 2012 season with a hiss and a roar and was battling it out right at the front of the championship until reluctantly falling back into the clutches of the chasing pack.
He won a race at the non-championship round at the Australian Formula One Grand Prix meeting in March, then qualified second quickest for the first race in Hamilton before claiming a second and a fourth at Phillip Island.
Just as van Gisbergen and his SP Tools SBR outfit thought they had the measure of the likes of series leader Jamie Whincup and FPR's pilots Will Davison and Mark Winterbottom, Team Vodafone and the Ford cars seemed to just get faster.
"We're working our backsides off at the moment doing a lot of testing, work and development on the car. It's pretty tough at the moment but somehow we're fifth in the championship but it feels like we should only be 12th or something" said van Gisbergen.
The team have introduced a number of changes for the weekend and van Gisbergen is confident they are moving in the right direction.
"We're not standing still and I think we're just going to get better, but not straight up to FPR's speed straight away. We'll get there though. Things go in circles and it's not as if I'm not trying as hard as I ever have, it's just the results aren't coming yet," said van Gisbergen.
Today is a 140km (45 lap) race, while tomorrow's race is a 200km (65 lap) affair to round out the weekend and teams get to use both soft and hard tyres.