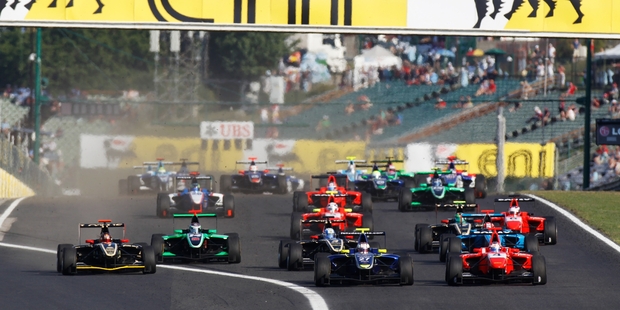 Despite having just about every form of motor racing misfortune thrown at him and the team, Aucklander Mitch Evans managed to eke out another point to extend his lead in the GP3 championship to 19 points.
At yet another up-and-down weekend, this time in Hungary as the support race for the Hungarian Formula One Grand Prix, Evans experienced the highs of a podium finish in race one followed by the lows of a last place finish in race two.
In qualifying, Evans' nearest rival Aario Vainio cut his lead by four points by setting the fastest time. In race one Evans finished third, two places ahead of Vainio to extend his championship lead back out to 19pts.
The winner was Portuguese Red Bull driver Antonio Felix Da Costa, who didn't even finish a race at the last round in Germany.
Sunday's second race was genuine motorsport madness that tested driver and team skills more than any other race so far. Morning thunderstorms put most of the grid on slicks, but the sun came out before the flag dropped, making for an extremely slippery first lap for much of the field.
The reverse-grid top eight start is always a challenge, and Evans copped a hit from Da Costa, forcing him to the pits for a tyre change.
"Da Costa was pushing over on me down the straight and [Lotus driver Daniel] Abt was right on my left rear. He got too close and his front wing slit my tyre," said Evans. "I didn't know until I braked into turn one and the car spun around. It was an instant puncture."
Despite cars madly spinning all over the fast-drying circuit, the race unusually ran a full 16 laps without safety car intervention, and Da Costa's stunningly well-timed pitstop for slicks helped the Red Bull driver become the first to win both races at a GP3 round this year.
Those on slicks were lapping nearly 10 seconds faster than the teams which had elected to stick with worn wet weather tyres, and where this should have given Evans some advantage, a spin on the still-damp chicane quickly put paid to any gains. But he did manage to set the fastest lap of the race in the closing stages.
"It was just a matter of waiting for the track to dry after my change to slicks. I got fastest lap right at the end - but overall it was a disappointment because we had really good pace in both races."
Evans eventually finished in 21st place, but did retain his spot at the top of the championship with 136 points, followed by Aario Vainio on 119 and Da Costa slipping into third 102 after rapidly amassing points during his dream weekend run, rising quickly from the seventh spot he was in on arriving in Hungary.
The next GP3 round takes place after the Formula One "summer break", running alongside the Belgian Grand Prix at the stunning historic Spa Francorchamps circuit on August 31.