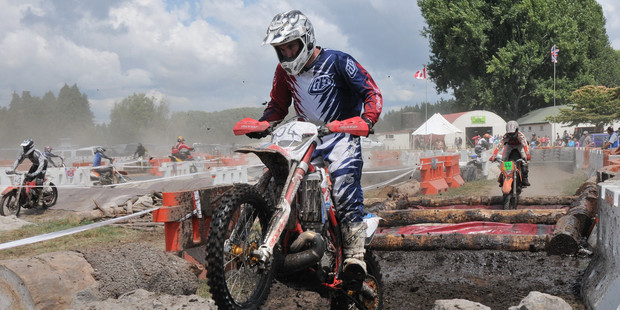 They breed them tough in the enduro world, a branch of off-road motorcycle racing that rewards courage, strength and speed, but mercilessly punishes even the smallest mistake.
The story of Northland's Mitchell Nield and his 2012 New Zealand Enduro Championship campaign is a classic example.
Nield had an unbelievable fight on his hands this season, but bravery, tenacity, a few painkillers and the will to win got him there in the end.
The 24-year-old co-owns and operates his own building firm with his younger brother during the week but races for Triumph New Zealand at the weekends.
He stormed to victory in the over-200cc two-stroke class at the fifth and final round of the enduro nationals near Taupo just over a week ago.
The victory made it three national enduro titles for the talented young rider in a relatively brief career so far.
He won the New Zealand under-300cc four-stroke title in 2005, took top honours in the under-200cc two-stroke class last season and now has the over-200cc two-stroke title in his pocket.
Last year he raced a Gas Gas EC125, but this year he increased the horsepower quotient to tackle the nationals on a Gas Gas EC300.
"But it was tough racing," said Nield afterwards.
"I was riding with two broken ribs, an injury I sustained a couple of weeks earlier at the Tarawera 100 cross-country endurance race near Kawerau. But I was fully taped up and just toughed it out.
"It was down to the wire for the class title, but I got there in the end.
"I'd make the most of my time in the pits to catch my breath and take a few painkillers," he said.
What is more remarkable for Nield was that he had been forced to skip an earlier round in the five-event series when he rested following another accident.
Nield's bike is a factory replica of the Gas Gas EC300 raced by French international enduro ace Christophe Nambotin.
"Anyone could have one of these bikes. You can buy these bikes straight off the showroom floor.
"I just unwrapped it and rode it as it came out of the box, stock standard," said Nield.
Though thrilled with winning the battle-within-a-battle for the over-200cc two-stroke class title, in the race for outright championship honours, Nield actually had to settle for sixth overall.
He was forced to bow to the superior results this season of Mokau's Adrian Smith (Yamaha YZ250F, outright No.1 and winner of the under-300cc four-stroke class), Auckland's Chris Power (Honda CRF450, championship runner-up overall and winner of the over-300cc four-stroke class), Auckland's Michael Skinner (KTM 300 EXC), Palmerston North's Adam Reeves (Yamaha YZ450F) and Titirangi's Callan May (Yamaha YZ125, winner of the under-200cc two-stroke class).