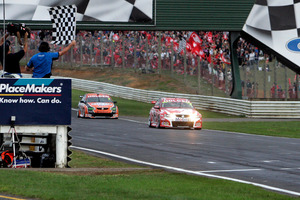 V8 Supercars' chairman Tony Cochrane has defended the decision to bring the Australian series back to Pukekohe.
Cochrane, who negotiated the move, explained to Driven this week the reasoning behind the decision.
"We worked really hard for nearly 12 months with the New Zealand Government, Auckland Council and Counties Racing Club to do a major upgrade to the Pukekohe track for which we [V8 Supercars] are going to pay a significant fee to rent that track," he said.
"As part of the agreement with all three parties, V8 Supercars are absolutely contributing to the upgrade and we are committing ourselves to a minimum of five years and up to 10 years. We will also be the promoter.
"I'm going to get the closest circuit to the biggest city in New Zealand upgraded to an FIA category two track, build a new pit area, new toilet block and lay down new asphalt to most of the circuit.
"We're going to benefit because we're going to use it, but for 51 weeks of the year New Zealand motorsport is going to be the big winner."
It has been suggested that Hampton Downs would have been a better place to hold the annual race.
But for Cochrane, that proposal didn't stack up after close examination.
"We've had meetings and meetings and meetings with Hampton Downs where they've said things would get sorted but nothing has been," he said.
"The resource consent allows 20,000 people at the track a day and I have spoken to the head of the New Zealand Transport Agency in charge of highways and they told me 'we are not going to change that and we will fight that tooth and nail because the crowd will absolutely block up our main artery in and out of Auckland'."
It's been Driven's understanding that Hampton Downs would be able to increase its daily spectator total if changes were made to its exit and entry ramps.
"I find [Cochrane's] comment a bit strange as I have a memorandum of understanding from the NZTA that they will do everything to support us," said Roberts.
But Cochrane defended the Pukekohe decision.
"All due diligence was done with the Ministry of Economic Development, Auckland Tourism Events and Economic Development and V8 Supercars," he said.
"We all did our own research including computer modelling by external firms and we all came up with the same solution - and that was to do up Pukekohe."