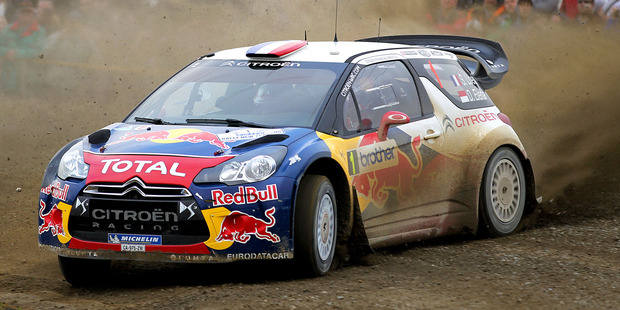 With team orders not to have a go at each other over the final day, eight-time world champion Sebastien Loeb had an unchallenged run to the final time-check to win the Brother Rally New Zealand and his third Kiwi title in eight years.
Loeb and his Citroen teammate Mikko Hirvonen had been trading blows over the previous two days with the Frenchman edging the Finn by 6.4secs at the close of play on day two.
Day three was a bit of a damp squib as Citroen team principal Yves Matton had decided that after two days of battling each other, Loeb and Hirvonen were to play the long game and look at the championship as a whole.
"My fifth win of the season means it's going very well for me and I have a good lead now," said Loeb. "The car was really strong and the team has done a great job. It was a pleasure to win here in New Zealand. The roads are very beautiful and it was a great fight with Mikko over some very nice rally roads."
Hirvonen, who remains second in the race for the 2012 title, played it safe to stay on the road and keep the flying Petter Solberg at bay over the closing stages of the rally.
"Sebastien and I had an amazing fight over the first two days and I just wanted to bring the car home safely on the last day," said Hirvonen. "Fair play to him, [Loeb]. I just couldn't beat him this weekend and had to settle for second place this time."
Solberg was content with his third place at round seven of the FIA WRC event, as he knew he could not make up the 1min 26secs gap to Hirvonen on the last day of the rally.
"It's a great feeling as it's been a long, hard rally," said Solberg. "I'm a little bit disappointed with what happened on the first day [wrong tyre choice]. It's good to be on the podium and good points for the team."
Jari-Matti Latvala's chances of defending his New Zealand title came to an end when he got tangled in a farmer's fence on day one, dropping over four minutes on the leaders. Once he had his confidence back Latvala was soon flying again and at times setting the fastest stage times and finished seventh overall.
"I'm quite all right now and I'm pleased I managed to win the power stage and get the three extra points," said Latvala. "I'm happy as I found the speed again and we did some testing in preparation for the next rally in Finland."
After a steady second day, following the dramas of day one when his gearbox quit on him, New Zealander Hayden Paddon struggled a bit on the last day. Overnight his team had experimented with changing the dampeners to find a bit more speed but it was to no avail.
However, such was Paddon's commanding 38-minute lead over his nearest challenger in the S2000 class that his category win was never in doubt. The Kiwi now leads the S2000 championship.
"A good result but that's about as much as you can say about the weekend," said Paddon. "It's been a difficult weekend and we had a few more problems today. There's still a bit to work on with the car and maybe we have to get someone in with a bit of experience on these cars to help us a bit more."
Richard Mason completed a wire-to-wire win in the domestic New Zealand Rally Championship to extend his lead over Emma Gilmour and Matt Jansen in the title race after four rounds.
"It's been a long hard rally for us really and we've had a few small issues with the car," said a relieved Mason. "Overall it's been a fantastic weekend and just one more rally to go so we're close to getting it [the championship] in the bag."
POINTS TABLE
1. Sebastien Loeb, Citroen - 145
2. Mikko Hirvonen, Citroen - 107
3. Petter Solberg, Ford - 90
4. Mads Osberg, Ford - 80
5. Jari-Matti Latvala, Ford - 54