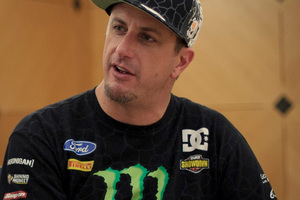 The Brother Rally New Zealand, round seven of the FIA World Rally Championship, is the 500th event since the first race was held at Monte Carlo in 1973.
That lasted six days and covered 420km of snow and tarmac.
Jean-Claude Andruet won in a Renault Alpine A110 ahead of the two similar cars of Ove Anderson and Jean-Pierre Nicolas. But no world champion was crowned that year - after 13 rounds, there was only a manufacturer's title.
The WRC made its first visit to New Zealand in 1977, the year the first champion driver was announced - Sandro Munari (Italy).
The first 100 rallies were celebrated in Monaco in 1982 when drivers had to conquer 748km of racing with Walter Rohrl (Germany) in his outmoded rear-drive Opel Ascona 400 claiming bragging rights ahead of Hannu Mikkola (Audi Quattro). Frenchwoman Michele Mouton won three rounds - Portugal, Greece and Brazil.
Rohrl and Mikkola were inducted into rallying's hall of fame in 2011, Mouton in 2012.
The 200th event was again the Monte Carlo Rally, in 1990. Didier Auriol (Lancia Delta Integrale) took line honours from Carlos Sainz (Toyota). On the podium that year stood 1988-89 champion Massimo Biasion, 1990 and 1992 champion Sainz and Auriol, who would become champion in 1994.
Sainz was inducted into the hall of fame in 2012.
For a change the 300th race happened in Argentina in 1998. After four days of hard racing Tommi Makinen overcame Sainz and Juha Kankkunen. Again, all three had been champions at some time over the past eight years.
The 400th celebration cropped up in Greece in 2005 as a bunch of new stars began to emerge. The defending champion, Sebastien Loeb, won with Toni Gardemeister snapping at his heels, followed by Sainz.
Loeb went on to win his second title and still holds the mantle as the world's best eight years later.
The WRC has been around for 39 years and has come to these shores for 31 of those. The rally has visited 31 different countries.