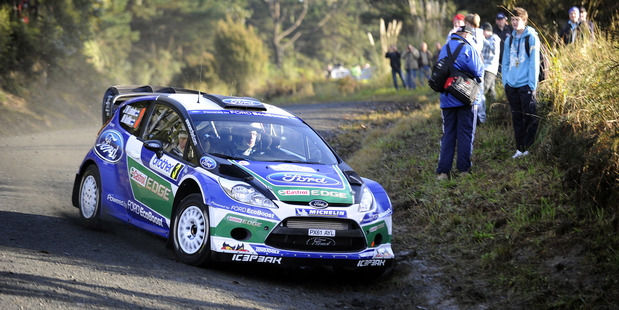 Ford driver Jari-Matti Latvala has topped the qualifying times for this weekend's Rally New Zealand.
The fastest four qualifiers created an alternating pattern of Ford-Citroën with Citroën's Mikko Hirvonen second quickest. Ford's Petter Solberg. Eight-time world champion Sébastien Loeb completed the top four in his Citroën DS3 world rally car. Citroën's rising star Thierry Neuville rounded out the top five.
Qualifying is a new feature in this year's FIA World Rally Championship which offers the quickest drivers the opportunity to select their starting order for the first day of the rally.
After free practice on the same special stage earlier today, each of the 14 WRC drivers got one run to set their best time.
Latvala's time of 2:31.86 was 0.37 seconds quicker than Hirvonen's.
Latvala, who won Rally New Zealand in 2010, said: "Very good feeling; we did a little modification to the rear diff and I was more comfortable with the car, we were using hard tyres in the morning so the times were not so good but we used the softs now."
Hirvonen commented: "I made one small mistake but overall I was really struggling on the shakedown to find a good setup and rhythm, but that [the qualifying stage] was awesome. The last couple of corners were just perfect; really enjoyed it."
Solberg with a time of 2:32.40 in his Ford Fiesta RS world rally car said: "I tried to get the feeling; we haven't driven since Greece but the feeling is good. No problem, maybe a small mistake but Mikko did a very good time. There is a lot of prestige to do [well]."
Loeb noted the uneven grip throughout the stage. "I had a good drive. It is tricky, the grip is not the same everywhere and less grip than we expected. There is more water on the gravel and it is a little bit muddy in some places but I didn't make any mistakes so I tried to push. It's not so bad."
Other competitors had a shakedown run this morning using Komokoriki Hill Road north of Kaukapakapa.
Kiwi Hayden Paddon topped the time charts in his Skoda Fabia S2000 car ahead of fellow Super 2000 World Rally Championship competitor Yazeed Al-Rajhi, from Saudi Arabia, in a Ford.
Dunedin's Emma Gilmour was the third quickest and the fastest among competitors in the New Zealand Rally Championship,.