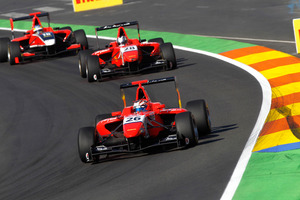 Another of New Zealand's rising young international motor racing stars, Mitch Evans, gets his 2012 GP3 campaign under way this weekend in Spain.
The young Aucklander is having his second tilt at the series for the MW Arden team owned by Red Bull Formula One driver Mark Webber and team principle Christian Horner.
In his first foray into international racing in Europe, Evans was fast out of the blocks in the opening races in 2011 setting fastest laps and taking poles and race wins along the way. At one stage Evans led the championship but due to various mechanical and team errors he finished the season ninth out of 38 drivers.
The third season of the GP3 series is at the Circuit de Catalunya in Barcelona and features nine teams with 26 drivers. The grid this weekend has three previous winners; Evans, Pal Kiss and Felix Da Costa, with the Kiwi having won here last year.
"I'm pretty fired up about starting the season that's for sure," Evans said from his European base. "I'm ready to get my kit on, strap myself into the car and get into the track.
"I'm really excited about the season and it's a big year for me."
Evans has a lot of pressure on his young shoulders this season to back up the promise and evident speed he showed last year. Much is expected from the Kiwi and he knows he's got to perform at the very top of the class in his second season if he's to push on to greater things.
"I've been training, practicing and working really hard and hope that'll help maximise our performance this weekend and season.
"We'll see how the weekend goes. Testing is one thing [he was fastest each day in the two pre-season practices at Silverstone] but doing it when it counts is another thing.
"It's going to be tough this year that's for sure, but I'm feeling good and will give it my best shot," he said.
Now in his second season, Evans knows how the series works with all its nuances and ups and downs. He also knows the tracks much better now so will be more comfortable with the team, the car and everything else involved. "In most ways things sit a bit more comfortably especially with the team and car environment. I know how race weekends go now and it's the little things that make things ... run a bit smoother. The only thing that makes me a bit nervous is putting the pressure on. I know I have to win the championship but that's natural nerves. It's all part of it and I'm feeling pretty good for it," said Evans.
GP3 organisers have introduced a new scoring system this year akin to that used in Formula One and GP2. Extra points will also be allocated for getting pole - four points - and setting the fastest lap during the race will earn the driver an extra two bonus points for each race. Another change is drivers will get 45 minutes of free practice before having to knuckle down to the serious business of qualifying over an additional 30 minutes.
"The change in the points system is going to make it a whole new ball game this year. We were fast here last year so if I can nail a lap in qualifying it's points before the race even starts.
"Then nail the first sector in the race because in our class it's quite difficult to pass," said Evans.
For the first time in the series, female drivers are taking on the boys. Vicky Piria (Trident Racing), Carmen Jorda (Ocean Racing Technology) and Alice Powell (Status GP) will all be in the mix.
Television coverage this weekend is on Sky 1 with race one screening delayed at 7.30am tomorrow and race two at 9.30pm. Evans will have a camera fitted in his car, so the viewing should be up close and personal.