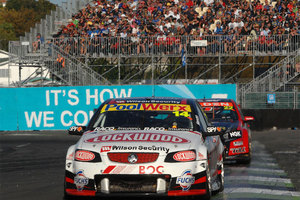 New Zealand's three V8 Supercar drivers were unable to give the Hamilton round of the series a fitting send-off, with Fabian Coulthard's fifth today the best showing.
This year's event, the fifth Hamilton has hosted, is also the last after Hamilton City Council pulled the plug due to the huge financial losses it sustained.
But that wasn't enough motivation for Coulthard, Shane van Gisbergen or Greg Murphy to claim the chequered flag, leaving van Gisbergen's breakthrough win last year as the only by a New Zealander out of 11 races at the Hamilton 400.
The 22-year-old van Gisbergen had the best chance after starting yesterday's race on the front row of the grid, but a disastrous first few laps put paid to his chances of winning in consecutive years.
Today, Coulthard carried Kiwi hopes after qualifying in eighth but, despite moving up to fifth after just a lap, he couldn't force his way onto the podium.
The Brad Jones Racing driver had mixed emotions about his day, his championship-best finish, but was overall satisfied to finish near the likes of series leader Will Davison and defending champion Jamie Whincup.
"I had my eyes on winning the race but you have to be realistic," Coulthard said "At the start of today's race, I said, 'we're starting eighth, if we can finish in the top five then we should be pretty happy'.
"I'm relatively happy with the result, we're only a small team. We've got some big budget teams ahead of us so for us to be up among the best is a good effort.
"Any time you can move forward in a V8 SuperCar field to finish in the top five, it's a good day."
Coulthard was especially pleased to top the Kiwi standings, as he bade a fond farewell to a friendly venue for him.
"It's nice to perform in front of the home crowd and to be the leading Kiwi is just the icing on the cake. It's always nice to come back to New Zealand and race.
"It's unfortunate that this is the last time in Hamilton. I've done very really here in the past - I've had six top 10s out of the times I've been here, so it's been a kind place to me. It's just a shame that we're not coming back."
Stone Brothers Racing driver van Gisbergen was unable to temper yesterday's disappointment by repeating his 2011 heroics, instead settling for a top 10 finish after qualifying 14th. And Murphy completed an altogether underwhelming weekend with 18th place.
Coulthard said, while a fairytale finish to the Hamilton leg would have been ideal, the small New Zealand contingent could be proud of their efforts.
"It's such a competitive field, you only need to look at the qualifying times and there's a whisker between us all. We can't be too disappointed - there's three Kiwi drivers, with the rest of them being Australian, so we're holding our own."
After this weekend's round, the fourth of a 16-event championship, van Gisbergen is the best-placed New Zealand driver in sixth place, with Coulthard improving to eighth.
- APNZ