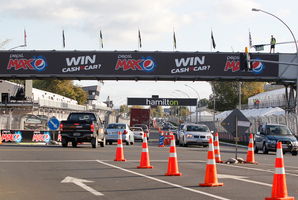 Hamilton's final V8 Supercars event is behind on ticket sales of previous years but the promoter says he is still expecting large crowds.
Crowds at the event have steadily declined since the much-hyped first meet four years ago, when 172,000 people attended over its three days.
That figure dropped to 150,000 in 2009, and in 2010 a dramatic dip in sales resulted in only 105,000 people passing through the gates.
That number was bettered only slightly last year, which was disappointing for promoters who had been hoping to get the crowd back up to about 120,000.
But promoter Greg Mosen said he was certain this year's event would top that in terms of crowd numbers.
"We sold twice as many grandstand tickets today as we did this same day last year, so we are really thrilled with grandstand ticket sales and we are quite proud of the way we have relocated the viewing opportunities too," he said.
Mr Mosen said changes to seating around the track including stands at turn one on Tristram St and at the roundabout on King St meant fans without grandstand tickets would be able to get premium views at a lesser price.
"Obviously we have seen patterns in terms of where people want to buy so we have catered for that so we are thrilled.
"We are really happy with the corporate sales and general admission is subject to weather and I think when people see what we have been looking at today they're just going to pour in."
Race-goers will have several other entertainment choices aside from the V8 Supercars, with drift cars, Harley Davidson motorbikes and cars from the annual Beach Hop event on the track and numerous events off it.
Australian rockers INXS are headlining a free concert for fans on Saturday night.
This year's event will also be the last for the presentation of the Mark Porter memorial trophy, a large piece of pounamu which V8 Supercars commissioned after the death of the driver at Bathurst in 2006.
The Herald understands that after the winning driver accepts the prize on Sunday it will probably be given to the Hamilton City Council. It is understood the trophy will probably be put on display at the Waikato Museum.
Mr Mosen said it was extremely sad to see the event, which was scheduled to stay in Hamilton for seven years, leave the city.
"Without a doubt," he said. "Just walking around looking up and thinking 'wow, this is it', it's not a good thing but that's the way of the world."
He could not confirm where the event was headed to other than saying it was going "to Auckland".
However, it was reported last week that the V8 Supercars would be in Pukekohe next year.
Metservice forecaster Larissa Marintchenko said the weather in Hamilton from Friday to Sunday should be near perfect for racing with light winds, little chance of rain and temperatures around 19C.
Waikato Motel Association manager Mike Ward said accommodation in the city had been "pretty much fully booked" for several months and securing a room for a night or two during the event was "not likely".
"We are sad to see it go, but we can understand it from a city perspective because it wasn't very well-handled," he said.
"Hopefully our council can come up with something else."
V8s CROWDS
2008: 172,000 fans
2009: 150,000
2010: 105,000
2011: 105,000