Musician Greg Fleming takes the Mazda CX-5 for a test drive all the way to a Hawkes Bay house concert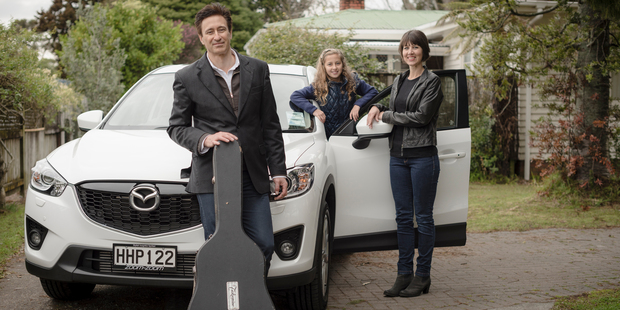 I have vivid memories of touring New Zealand in the 1990s as a support act for Greg Johnson - six band members, two roadies and a very brave young woman whose job it was to sell T-shirts - all of us squeezed into a white transit van that was as temperamental as many of its occupants.
It was great fun, but travelling in style wasn't high on the agenda. So when the opportunity came about to take a new Mazda CX-5 on the road to play a house concert in Napier I jumped at it.
It was a solo show, an intimate affair for 40 people, which sometime promoter and music-lover Jamie Macphail had organised. So no roadies or foolhardy merch girls this time - this was a family-friendly tour - accompanied by my fiancee, Wendy, our daughter, Truly, two guitars, a box of my new CD Forget the Past to sell and a brand new $56,000 car to get us there!
I hadn't driven an SUV before but getting behind the wheel of the CX-5 I was amazed at how easy it was to drive.
You may have seen the ubiquitous TV ads where the CX-5 is transformed from urbane city run-about to a lithe cheetah which loves the open road, and the analogy is apt - if you needed power it was there, lots of it, and I had to constantly check my speed as 100 km/h felt like a gentle glide, but the car was also easy to manoeuvre and actually felt like a much smaller car to drive.
Memories of crammed seats, tinny sound-systems and draughty interiors vanished as we cruised down State Highway 1 with Ryan Bingham's Mescalito blasting out on the Bose stereo (USB and bluetooth-compatible sound system with - yes - six speakers), our butts warmed up thanks to the heated seats (four degrees outside, 18 under our butt!) and the cabin cosy, thanks to the dual-zone climate control.
The interior is well set out and resplendent with the latest driving technology - a push-button start, eight-way adjustable driver's seat which memorises each driver's settings, a large touch-activated display screen with reverse camera and TomTom satellite navigation - in many ways the car drove itself.
When it started to rain the wipers switched on automatically - ditto for the headlights when the light faded - and while we didn't make use of it the CX-5 will automatically stop if it senses a (low-speed) collision is about to take place. Similarly if you're distracted and veer into another lane an alarm sounds. Parking was also a breeze as sensors sound warnings which ensure your safe arrival kerb- side.
But for me one of the main attractions of the CX-5 (which was awarded Driven's Car of the Year in 2012) is its incredible fuel efficiency. Both the diesel and petrol models represent a fundamental rethink of how an internal combustion engine works - essentially getting more performance out of less fuel. All up it cost $60 in diesel to get a full car and three passengers from Auckland to Napier. I was impressed - that kind of economy can buy a lot of studio time! In our regular car - a venerable 2006 Nissan Wingroad - it would cost more than twice that.
Indeed the popularity of the CX-5 was evident when we pulled into our first overnight stop - Wairakei Resort Taupo - where we counted no less than six CX-5s in the car park.
The trip from Taupo to Napier pressed home the brilliant handling attributes of the CX-5. My daughter can sometimes get car sick but there wasn't any sign of this as we climbed the often windy roads up the ranges.
When I needed extra power to pass a slow logging truck the CX-5 responded instantly and seemed to relish the opportunity, its cheetah alter-ego ready to spring into action.
And the gig? It went well and plans are afoot to return - though I may not get there in quite such style next time round.
• Greg travelled courtesy of Wairakei Resort Taupo and Mazda NZ. His new album Forget the Past is available now. See www.gregfleming.co.nz