Barbara Harris, deputy director Trade and Hon Vice Consul, UK Trade & Investment at the British Consulate-General in Auckland, says her low-slung sports car was a must-have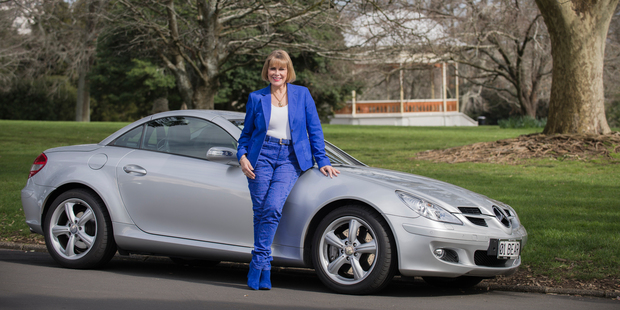 You drive a 2009 silver Mercedes SLK 350 called Sylvester with just 12,000km on the clock?
My partner is a car fanatic and he recommended it. I told him I had no need of a low-slung sports car at my stage of life ... but once I took this car for a test drive, he had to be mine! We name all our cars and this one being silver and a tad fancy suggested the name Sylvester.
Being a two-seater it is totally impractical - but sometimes not being able to give people a lift can be an advantage - and it does limit my shopping capacity.
Why German rather than British?
I have owned and loved several British cars, and my partner's most recent cars have been Jaguars and Bentleys. So we have done our bit for the trade figures.
But all thoroughbred cars have a special cachet - and this time, being a global world, it was the Mercedes' turn.
Main consideration when buying a car?
Design - I like cars that look snazzy. They must be small and easy to zip about in and park. They need to have sufficient grunt to get out of tricky situations. Otherwise reliability, good reviews, colour and affordability are important.
First car?
I bought my Dad's red 1972 Triumph Spitfire for a very good price in my early twenties. It had been his late mid-life crisis and he cut a fine figure with his black beret and pipe aglow until someone called out "look at that old codger trying to look young".
Your dream car?
Sylvester meets my current dream. However, a red Bentley Continental GT Convertible is rather desirable.
Favourite car colour?
All my cars have been red, blue, white or silver - just like the Union flag.
Who taught you to drive?
A driving school instructor - as soon as I turned 15. My parents were wise enough to know that some tasks need to be kept at arm's length.
Manual or automatic?
Automatic for the ease.
How often do you clean your car?
Fortunately silver is a forgiving colour. A nice car deserves respect from its owner.
Most memorable road trip?
Last year our High Commission organised a Great British Car Rally. Along with over 100 marvellous British cars of all models and years we travelled down the stunning North Island's east coast and over the strait to Christchurch.
Unfortunately, a colleague and I drew the short straw to drive the hired support van - non-air-conditioned and apparently lacking suspension and shock absorbers.
But when we reached Wellington I was assigned to deliver a brand new Rolls-Royce Phantom to the display area.
Some vehicles are more pleasing to drive than others!
What do you listen to in your car?
Mainly Coast radio - I love the familiar tunes of younger years that I can sing along to.
Great day trip out of Auckland?
Taking the car ferry to Waiheke. Magnificent views, great beaches, wineries and restaurants abound.
Would you rather drive in Auckland or take public transport?
I like to spend my hours in Auckland's traffic jams in my own space with my own music and climate control. But our Consul-General always takes the bus so I hope he evens out my indulgence.
Who else is allowed to drive your car?
Only my partner - no one else has dared ask.
Do you find driving different in New Zealand to England?
Drivers tend to be a bit more courteous of others in England.
We have more of an "every man for himself" attitude in New Zealand that may have come about through sparse traffic in the past, whereas overseas drivers have been dealing with horrendous congestion for many years and see courtesy as a survival technique.
We also have a lot of difficult, steep, winding roads in New Zealand and are not helped by Auckland's narrow isthmus compressing the traffic flow.