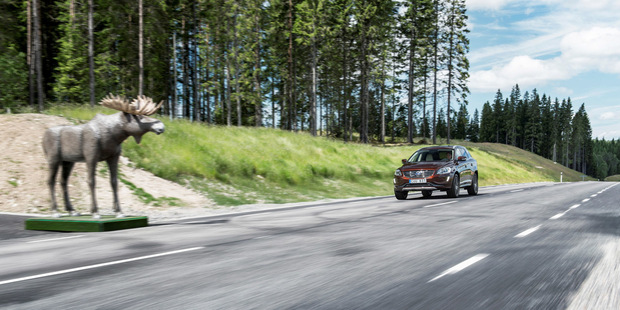 Volvo has always been serious about safety. So serious that it announced a few years back that by 2020 it had a target of zero fatalities or serious injuries in any of the cars it sells.
To that end the Swedish Chinese-owned company has announced it is building a state-of-the-art proving ground near the company's headquarters of Gothenburg in Sweden.
Called AstaZero, the testing facility will cost US$70 million ($84 million) and will cover more than 200 hectares, with over 24 paved hectares featuring four city blocks and 5km of highway.
The Active Safety Test Area (the Asta in AstaZero) will enable Volvo and its partners (including Scania trucks as well as government bodies and universities) to simulate city streets, highways, rural roads, roundabouts and T-intersections.
It might all seem a bit sensible and serious for The Good Oil to be taking notice of. This is true, but there was one picture that accompanied the press release that really caught our eye. It appeared to show what could only be described as the world's first truly accurate and realistic Moose Simulator!
Rather than having a cardboard facsimile of a moose - or perhaps an inflatable one - with the possibility of a passenger yelling out "LOOK OUT - A MOOSE!!", those crazy Chinese-backed Swedes have gone down the fully realistic, lifelike moose-on-a-moving-platform route.
While we truly love the idea, The Good Oil is not sure about the thinking behind it though.That is one pretty solid looking piece of artificial moose - what if the only fatalities in Volvos after 2020 come from collisions with animatronic moose at their own proving grounds? That could be quite embarrassing ...

Ventilation, Russian style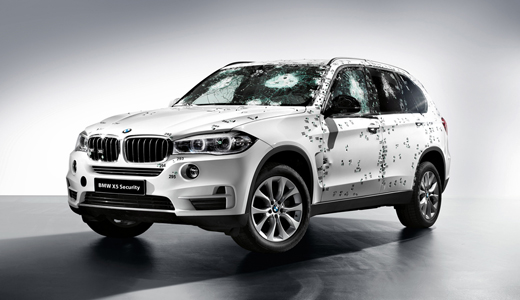 In every other country in the world car manufacturers generally prefer to reveal their latest creations in all their shiny, gleaming splendour.
They like to make the absolute most of all that shiny chrome you are unnecessarily paying for.
But not BMW and not in Russia.
BMW has unveiled the X5 Security Plus in Moscow and, along with the expected shiny, artsy photographs, there was this brilliant one that showed an armoured X5 someone had taken a serious weapon to. And failed to crack it.
BMW, and in fact all the German manufacturers, do big business with armoured versions of their cars in Russia and the former Soviet block so the new X5 is not the most surprising car to ever appear.
The X5 Security Plus now meets VR6 standards of ballistic protection and features reinforced bodywork, seats and joints, as well as the compulsory bulletproof glass.
Underneath lies the same 4.4-litre twin-turbo V8 and xDrive all-wheel-drive system, albeit with a fair chunk more weight to lug around.
We are the world
• The streets are now a little safer in Chennai, India, after police started cracking down on an activity that is said to have cost the lives of a number of children and motorists - flying kites. It's not that the kites themselves were dangerous, it's the string that was used to control a lot of them was the kind known as "maanja nool", a glass-coated string which could slice through the strings of opposition kite flyers! It seems the super-sharp string is actually responsible for the deaths of two children in 2009 and a motorist had his throat slit in 2012!
• The single most ridiculous parking sign in the US (and probably the world) has just been simplified. The pole outside a school in Culver City, California, boasted around 18 different signs relating to the many and complex parking regulations during different hours. The local council agreed this was ridiculous, so endeavoured to simplify it - as a result it now "only" has around 10 signs and has been trimmed to 4.5m tall ...
Some old junk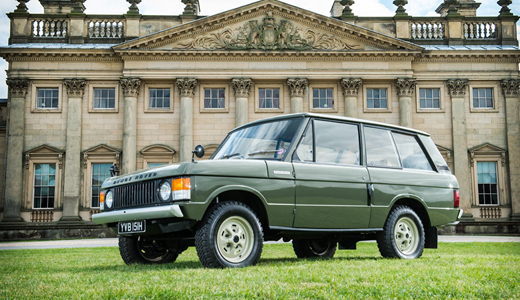 You know how when you have a rummage around up in the back of the shed and you come across an old piece of junk you thought you had chucked out years ago, and are very surprised to find it still works? Well, that's not what happened here, but it would have been awesome if it had ...
The first ever Range Rover - chassis number #001 (funnily enough!) - will be going under the hammer in The Salon Privé Sale in London on September 4.
Rangie #1 is estimated to go for between £100,000 and £140,000 ($200,000-$280,000), and was the first example of the British SUV to roll off the production line in 1969.
The #1 car was built between November 24 and December 17, 1969 before being registered on January 2, 1970, nearly six months before the official launch date of the Range Rover. The first owner was Michael Furlong, the producer of two promotional films for the model.
In 1975 the car, re-sprayed in Bahama Gold, passed on to a new owner. Changes to registrations as well as colour meant that chassis number 001 was "lost" for a number of years, until it was rediscovered by its current owner in the early 1990s. What followed was a professional, six-year restoration, both bodily and mechanically executed to an exceptional standard as well as taking it back to its original olive green colour.
The vehicle even retains all its "matching numbers" components: chassis, engine, gearbox, and axles, as well as the original aluminium bonnet, and the original body shell. In 1997 the DVLA reissued #001 with its original registration number YVB 151H.
Empty promises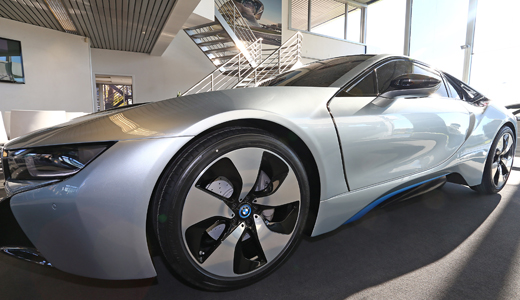 Picture / Simon Watts/www.bwmedia.co.nz/BMW NZ
Sitting in BMW New Zealand's Mt Wellington headquarters is an impressive-looking BMW i8.
It is very good that it is impressive looking, because looking is all you can do. Oh, sure, you can touch, but that will just serve to confirm that looking is all you will be doing because it is not a real car at all.
The i8 on display is one of a number that BMW has scattered around the planet on display building up the excitement for this impossibly sexy looking car before its launch.
Although it has now been launched in Europe and the US, leading one dealer in the States to do what all good salesmen do and try to make a quick buck out of his fake i8.
Laurel BMW of Westmont, Illinois, has the i8 shell listed on eBay. Like the one here there is no interior, no opening doors or windows, the wheels don't move (unless you count the castors underneath it) and there is no powertrain, although the lights work.
The most amazing part about all of this though is the fact that the fake i8 has attracted more than 50 bids and is currently sitting at US$18,100 ($21,600). There are easier ways to make your neighbour jealous ...
Number Crunching
25 YEARS
The length of time the original Range Rover was in production.
70 INCHES
The engine was a perfect square, 70in wide, 70in high.
1 CAR
The Range Rover is the only car to be on display at the Louvre.
8 ENGINES
It used a total of eight different engines during that time.