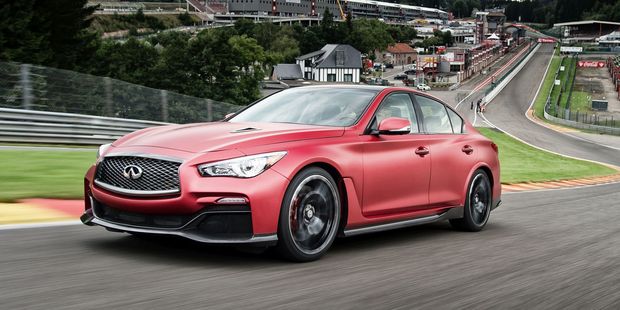 The Infiniti high-performance prototype super-sedan - the Q50 Eau Rouge - has finally come face to face with Eau Rouge, the signature highspeed corner of the famed Spa-Francorchamps racetrack in Belgium, and a fitting naming inspiration for the powerful GTR powered sedan sedan.
Sebastian Vettel, Infiniti's Director of Performance and four-time Formula One World Drivers' Champion for Infiniti Red Bull Racing, had the honor of putting the car through its paces as part of a social media powered race against US professional race driver Parker Kligerman and Nine-Ball World Champion snooker player Pan Xiaoting of China.
Spa's notoriously fickle weather was true to form with heavy rain dousing the track throughout Vettel's test run in the Q50 Eau Rouge.
Vettel has been involved in the ongoing development of the Q50 Eau Rouge prototype which was first revealed as a design concept vehicle at the North American International Auto Show in Detroit in January this year. The prototype was subsequently shown at the Beijing Auto Show in April.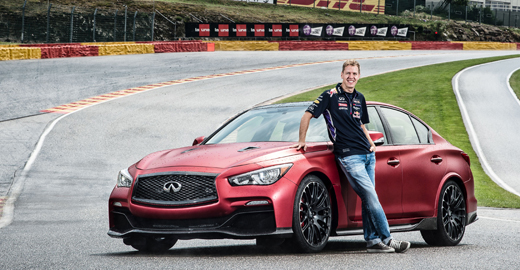 "Even though it was difficult to get a proper feel for the car's performance due to the wet track, the engineering team have made definite improvements to the car in the areas of steering and suspension since I first drove it earlier in the year,"said Vettel. "There is definitely no shortage of power from the Q50 Eau Rouge."
"All in all it was an interesting day and we had fun. It was a privilege to be given the task of driving the Q50 Eau Rouge on one of the most demanding corners in the world," added Vettel.
The engine inside the Q50 Eau Rouge is an aluminum and magnesium twinturbo, 24-valve, 3.8-litre V6 powerhouse that is already an icon among performance car fans. For the Eau Rouge, with bespoke Infiniti engine mapping, air intake and exhaust, and F1-inspired aerodynamic body work, peak engine power is up to an exhilarating 560hp, with engine torque measured at 600Nm.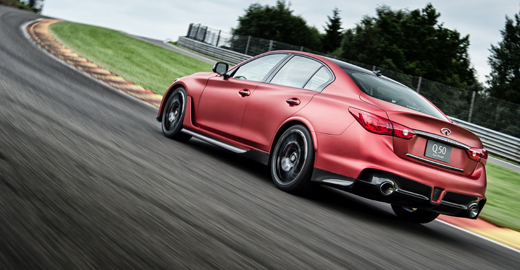 Originally a design concept of what a high-performance variant of the Infiniti Q50 premium sports sedan could look like, the Q50 Eau Rouge saga lives on as a true dynamic development vehicle.
The decision to take the Infiniti Q50 Eau Rouge into production is currently under evaluation.
Nissan NZ has no intention to officially bring the Infiniti range to New Zealand but the vehicles are available in Australia.
Follow Driven on Facebook and Twitter for the latest motoring news.