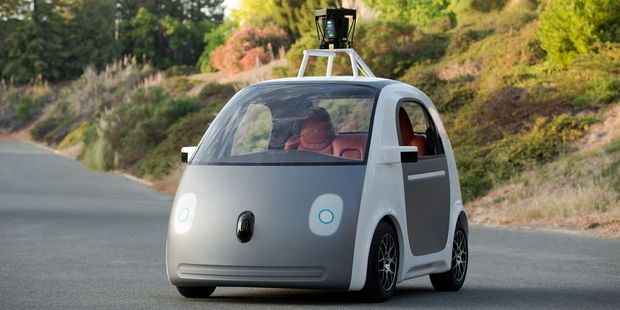 Google's self-driving car has hit a speed bump due to its lack of a steering wheel, or pedals for braking and accelerating.
New testing rules from California's Department of Motor Vehicles, taking effect September 16, require a driver to be able to take "immediate physical control"of a vehicle on public roads if needed.
That means the car must have a steering wheel and brake and accelerator pedals, according to the DMV.
Google could test its fully autonomous prototype on private roads, or try to test the vehicle on public roads outside of the state but it said it plans to comply with the California rule by building a small, temporary steering-wheel and pedal system.
To help with testing, off the road, Google has built a "Matrix-style" digital simulation of the entire Californian road system in which it is testing its self-driving cars - and is lobbying the state's regulators to certify them based on virtual rather than real driving.
The extensive simulation - reminiscent of the virtual cities created for human captives in sci-fi blockbuster The Matrix - exists entirely inside computers at the company's Mountain View location.
The cars have so far virtually "driven" more than 6.5 million km inside it, facing challenges just like those in the real world, such as lane-weaving motorists, wobbly cyclists and unpredictable pedestrians.
The ambition of the simulation illustrates how serious the tech company is about developing self-driving cars, an innovation that has been independently estimated as worth billions of dollars if widely implemented.
California's regulations stipulate autonomous vehicles must be tested under "controlled conditions" that mimic real-world driving as closely as possible. Usually, that has meant a private test track or temporarily closed public road.
"It's safer to test in simulation to make sure you haven't broken anything before you go out on a real road. We think that simulation and the track and real road driving should be used for self-driving car testing in the future," said Google spokeswoman Katelin Jabbari.
Google's record-breaking simulation has its limitations as it is based mainly on the infrastructure and inhabitants of California.
Rain is infrequent in much of the drought-stricken state, and snow or ice virtually unheard of in the southern part of the state, where the 3000km of physically mapped roads lie.
Driving culture and norms also vary considerably in America, and more so around the world.
Google's self-driving cars use a combination of onboard computers, stored maps, laser guidance and object recognition to determine appropriate speeds and actions.
Additional reporting The Guardian
Follow Driven on Facebook and Twitter for the latest motoring news.